Doing Good in the Neighborhood Archives
Each week, hear about some of the amazing and selfless acts happening throughout our area in our doing good in the neighborhood segment!
Since the beginning of the COVID-19 pandemic, every week, The Peak has featured a variety of people and organizations doing good deeds within our communities. From free food events, to local children helping animals, to fundraisers that benefited a variety of non-profits… during some of the most difficult and trying times, people came together to assist those in need, to selflessly donate their time to assist those less fortunate.
The Peak is currently looking for new fundraisers, food drives, and unique events to be featured. Please email us at info@thepeakradio.com if you'd like to be featured in doing good in the neighborhood.
4/5
April is sexual violence awareness month, and this week we spotlight Women's Freedom Center, a local domestic and sexual violence organization serving both Windham and Southern Windsor counties in Vermont. WFC works toward ending men's violence against women while offering support and advocacy to all survivors of domestic and sexual violence, as well as prevention and educational activities to help create a community in which violence is not tolerated.
This month, Women's Freedom Center has a few events planned, including a film and discussion night of "The Bystander Moment: Transforming Rape Culture at its Roots" and a bystander empowerment workshop.
WFC wants to raise awareness that we can all help as active bystanders to shift conversations and unsafe situations, and how male allies in particular can be part of the solution.
Please tune in Friday at 5:05pm when Elise Valentine speaks with Shari, the Community Outreach Advocate at the Women's Freedom Center, to hear how more about this organization.
3/29
This week we spotlight Fenton Family Dealerships, who since 1986, have been supporting nearly 100 local charities and organization annually through volunteer work and sponsorships. Their top four supported non-profits include The Monadnock United Way, The Community Kitchen of Keene, The Monadnock Humane Society, and the Keene Family YMCA. The Monadnock United Way is an umbrella organization of the Cheshire County area that works closely and funds over 22 life-changing programs and services in the greater Keene area.
Earlier this winter, Operation Warm, sponsored by Fenton Family Dealerships, Professional Firefighters of Keene IAFF Local 3265 and DA Brothers Contractors, LLC raised $14,240 for children in need and were able to give 712 kids a winter coat.
Another incredibly generous act of kindness by Fenton Family Dealerships and their Subaru of Keene location was in the form of a $10,000 donation to Cheshire Medical Center's Cheshire Health Foundation. This non-profit fundraising initiative is currently focused on raising funds for their COVID-19 efforts.
One of Fenton Family Dealerships largest annual fundraisers is their Charity Golf Tournament to benefit the Community Kitchen in Keene – this year's 29th annual is set to be held June 27th with an alternate date in September if circumstances necessitate due to the complications of COVID-19. Last year's event raised $42,279! Click HERE for sponsorship information.
3/22
This week we spotlight McClure's Tree Service in Keene, who does so much to support local businesses and help people as much as they can! They were fortunate to stay open throughout the pandemic as they were deemed "essential"… and now they are trying to give back and brighten the lives of our community members who are struggling through these difficult times.
Recently, McClure's Tree Service teamed up with Toy City to give away a $500 gift card to one lucky recipient – a customer decided to match the $500, plus owner Joey Parrott chipped in some of his own money, and they were able to make the days of multiple children and families!
Going on right now is a giveaway with Septic Pro, where they've teamed up to give away a free septic pump to one lucky winner!
Tune in Friday at 5:05pm when Elise Valentine chats with owner Joey Parrott about how McClure's tree service gives back to the community.
3/15
This week we focus on the Vermont Suitcase Company whose mission is to bring community people together to laugh with them and with each other, as they tour live, active theater to Vermont towns. Their goal is to make ticket prices affordable for all, to encourage people to support local theater and the arts. The Vermont Suitcase Company is planning a 2021 July tour and they need your help; they're currently fundraising through GoFundMe, looking to raise $3000… this will allow them to make all tickets free to children and youth, safely employ their actors in their home communities, and ease the pandemic-era hardship of Vermont venues by subsidizing production costs and ticketing.
3/1
This week we're focusing on The Monadnock Restaurant Project – The Local Crowd Monadnock, Culinary Journeys, and Food Connects partnered to launch this stimulus effort to help boost Keene and the local area's restaurant economy. The project is investing $10,000 in gift cards from participating locally owned restaurants, and they will be strategically dispersed throughout the community through other partnering businesses. These establishments will share these gift cards with their staff and ask them to spend these cards quickly, providing an immediate boost to Keene's local economy.
The anticipation is that the community members will spend twice the amount of their gift cards when redeemed, doubling the impact of this project by infusing $20,000 to these cash-strapped businesses.
2/22
THIS WEEK WE SPOTLIGHT HEAVEN HAIR GALLERY SALON ON PARK STREET IN KEENE – THIS LOCAL SALON STRIVES TO MAKE A DIFFERENCE IN THE COMMUNITY BY GIVING BACK IN SO MANY WAYS. THEY DONATE TO LOCAL NON-PROFITS LIKE JOY'S NETWORK, CEDARCREST, THE COMMUNITY KITCHEN, FAST FRIENDS RESCUE, AND MANY MORE.
OWNER ANJALEE AND HER STAFF CAN BE SPOTTED DOING RANDOM ACTS OF KINDNESS, LIKE BUYING LUNCH FOR DIFFERENT FAMILIES, OR DONATING SHEETS TO THE MONADNOCK HUMANE SOCIETY, OR TREATING STRANGERS TO COFFEE AT BREWBAKERS, THE STAFF AT HEAVEN HAIR GALLERY ARE KNOWN BEYOND THEIR STYLING TALENTS, BUT ALSO HOW AMAZINGLY KIND THEY ARE!
AT CHRISTMAS, THE STAFF TOOK DONATIONS TO HELP A LOCAL FAMILY IN NEED AND RAISED $500! THEY BOUGHT A TARGET GIFT CARDS SO THE FAMILY COULD PURCHASE FOOD, GIFTS, OR WHATEVER THEY NEEDED.
THE BIG BOX STORES OR ONLINE GIANTS DON'T SUPPORT YOUR KID'S LOCAL BALL TEAM – HEAVEN HAIR GALLERY DOES!
2/8
This week we focus on Kyle Woodward, a local young man known as TSparkle99 in the gaming world… who has pledged to play games and raise money for Boston Children's Hospital… Kyle is collaborating with friends and associates from Wal-Mart store #3549, and is participating in "Extra Life 2021", held Saturday, November 6th, 2021 – this is a fundraising and gaming marathon to support Children's Miracle Network Hospitals. He's joining thousands of gamers and will be dedicating a day to play games and get donations from people like you. 100% of the donations will go to Boston Children's Hospital, and together, we will make a difference for sick kids!
Donate —>HERE<— to Kyle Woodward's Extra Life 2021 Fundraiser.
2/1
This week we're focusing on Jake's 5 Star Convenience Store in Keene and their Valentine's Day Fundraiser to benefit Amazing Grace Animal Sanctuary in Sullivan, NH. Purchase some sweets for your honey for Valentine's Day and help out this amazing non-profit that operates as a therapeutic community to unwanted, mistreated, and abandoned animals. All orders must be in by February 12th.
1/25
This week we focus on the local rock painting group, "Rock Kindness". If you've been out for a walk in the greater Keene area and came across a painted rock, there's a good chance it was designed by a "Rock Kindness" member. Formed by Kelly Ballou, Rock Kindness consists of local individuals who paint rocks with the idea of hiding them for others to find, in hopes to spread love and kindness. Each member puts their own artistic touch on the rocks, often with inspirational sayings. Men, women and children belong to Rock Kindness, and the group is always looking for new members.
Click —-> HERE <—- to visit and/or join the group!
1/18
This week we focus on the Putney, Vermont Fire Department and their Junior Firefighter Program – they're looking for young men and women who have a strong desire to learn about fire and emergency medical services. The program is structured around safety, pride, learning, and a commitment to their local community. All applicants must be between the ages of 15 and 18, and live in the towns of Putney, Dummerston, Westminster, and the Greater Brattleboro area. For additional information, visit the Putney Fire Department's Facebook page, or our website, thepeakradio.com.
1/11
This week we're focusing on the Monadnock Rugby Football Club and their "Shave to Save" Campaign which benefits the Norris Cotton Cancer Center at Cheshire Medical Center in Keene which assists those struggling with cancer in the region– the lads of Monadnock Rugby are busy growing face forests for you to have your say – by pledging different amounts, you will determine on whether the players' beards are shaved or saved! With pledge amounts ranging from $25 to $500 in both categories, you could go as light as "plucking a whisker" to having a player shave their face as smooth as a baby's… well you get the point!
1/4
This week we focus on Nick Koloski, who is well known for his kindness in the greater Claremont region. This past fall, he started a program where he collects and gives vital medical equipment to people in need for FREE. Just recently, he gave away 357 pieces of medical equipment to people who could not afford to purchase and/or had insurance that would not cover specific pieces of equipment. Through a community effort, he was able to find usable goods and rehome them to residents in Vermont and New Hampshire.
Other notable good deeds… on Christmas eve, Nick took part in his annual toy delivery to Mt. Ascutney Hospital, Valley Regional Hospital, and Alice Peck Day Hospital. As a local Claremont firefighter, he receives a $750 stipend that he plans to donate to the Children's Hospital at Dartmouth Hitchcock. The stipend will also be matched by a local coffee shop! He also recently received a large gift of lifesavers candy… so he sent them to troops, hospital staff and police & fire depts. in NH and VT. "Lifesavers for Lifesavers". More than 100 cases shipped out!
12/14
If you're ready to get rid of 2020 as much as we are, here is your chance to do it together… separately! This week we focus on the Run From 2020 Virtual 5K… a virtual run/walk event to help raise your spirit, do something fun for the new year, and help out those in need at the same time, with proceeds going to the Community Kitchen in Keene. You can register now through Sunday, with the actual event occurring December 31st – January 1st, and you can participate from anywhere and run or walk your own 5k! The Run From 2020 Virtual 5K is sponsored by Bulldog Design, Ted's Shoe & Sport, Modestman Brewing and HurtSkurt®.
All participants are encouraged to post photos or videos of their participation on the Facebook event page and follow and use the hashtag 
#runfrom2020
 on your social media to help share your experience with the other participants, your friends and your family.
Let's say SO LONG to 2020 together!
Click —>HERE<— to register
12/7
This week we focus on Retreat Farm in Brattleboro… as a part of the Community Food Project, Retreat Farm has put together holiday boxes for 65 Brattleboro families. These boxes are a true testament to our generous community. They are full of donated products from local businesses, Vermont grown vegetables, pantry staples from the Vermont Food Bank, local meat, cheese, and recipes from the community.
In the wake of the COVID-19 crisis, Retreat Farm initiated its new Community Food Project. beginning as an emergency food pantry that provided bags of groceries to 20 families in March, the program grew to provide 65 families every week with produce, eggs, milk, and nutritious staple foods.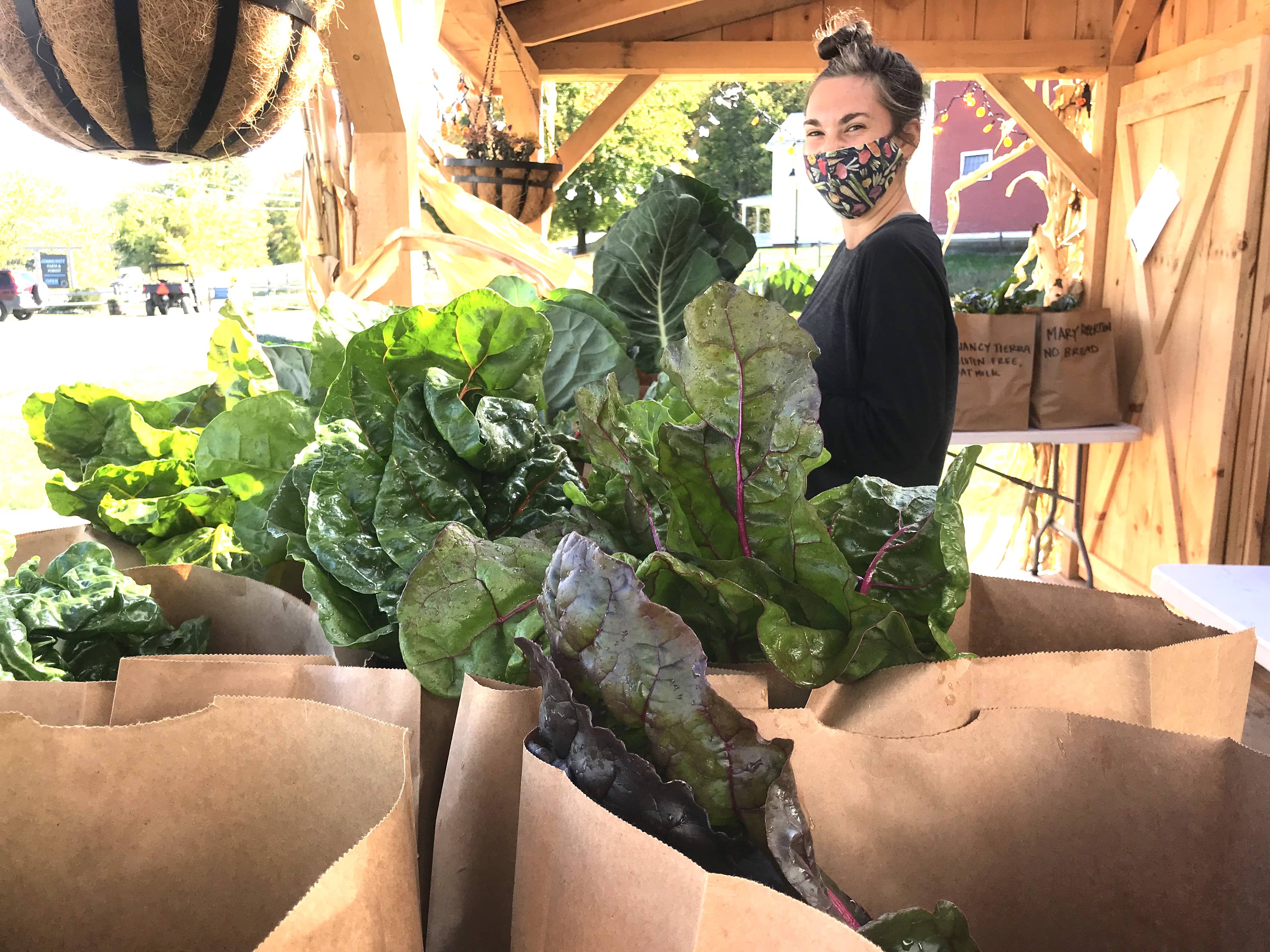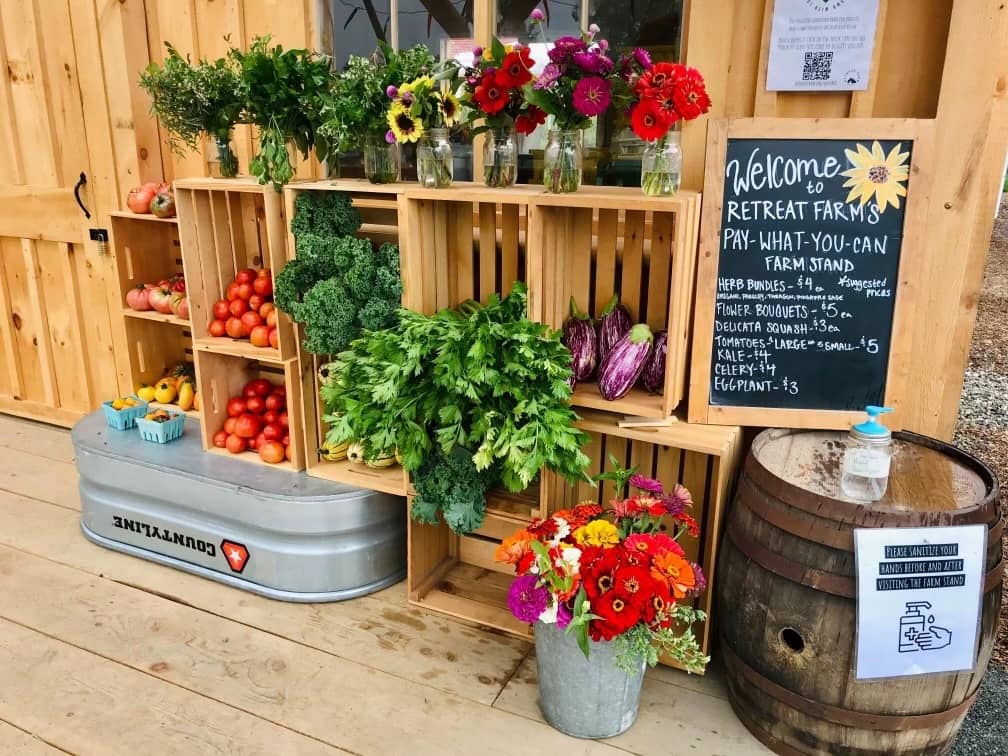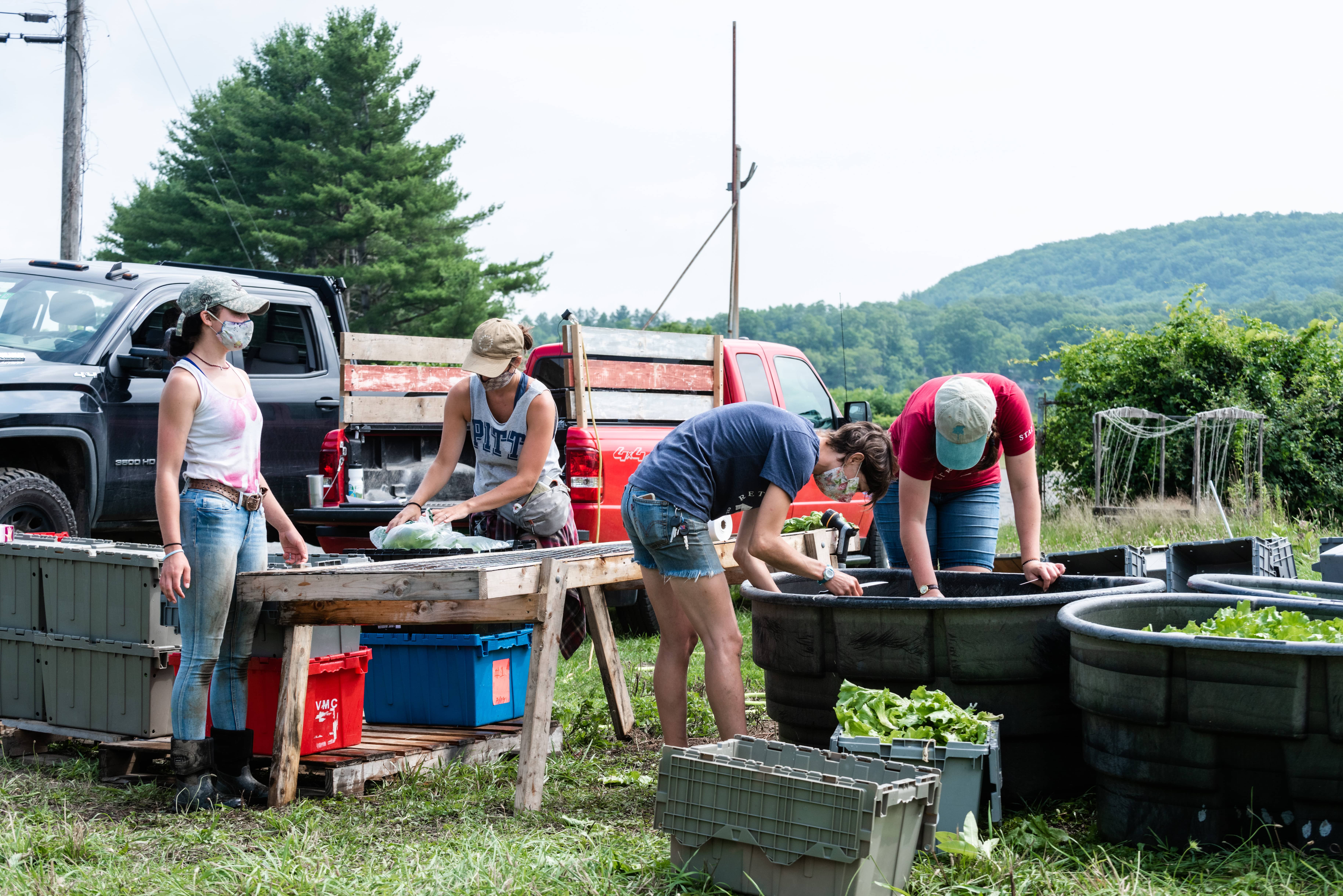 Join Elise Valentine Friday at 5:05pm when she speaks with Carissa Brewton, Retreat Farm Community Food Project Coordinator, to learn more about the holiday boxes and the Community Food Project.
11/30

This week we focus on "Operation Elves", The Greater Keene Rotaract Club's holiday service project, helping to provide a holiday to families in need. Due to the COVID-19 pandemic, GKRC wasn't able to hold their annual "Comedy Night" fundraiser, so this year they made the decision to virtually host the event, creating a catalog for their families to shop from to continue to include them in the gift selection process. Please consider donating to The Greater Keene Rotaract club's "Operation Elves" fundraiser.
11/23
THIS WEEK WE'RE FOCUSING ON THE UNITED WAY OF WINDHAM COUNTY AND THEIR "KIDS IN COATS" PROGRAM, WHICH PROVIDES AN ESSENTIAL SERVICE TO FAMILIES IN WINDHAM COUNTY. THIS PROGRAM USES FUNDS TO PROVIDE MUCH NEEDED WINTER GEAR TO THE STUDENTS WHO WOULD NOT BE ABLE TO ACCESS THESE WARM CLOTHES WITHOUT ASSISTANCE. GROWING THE "KIDS IN COATS" FUND IS IMPORTANT EVERY YEAR, AND THIS YEAR, IT IS CRITICAL.
THE UNITED WAY OF WINDHAM COUNTY COULDN'T DO THIS WORK WITHOUT SUPPORTERS LIKE YOU, AND ARE ALWAYS GRATEFUL TO ALL OF THEIR DONORS, PARTNERS, AND COMMUNITY MEMBERS FOR THEIR HELP. VISIT OUR WEBSITE, THEPEAKRADIO.COM, TO FIND OUT HOW YOU CAN DONATE TO "KIDS IN COATS".
11/16
This week we focus on "Modern Day Village" –  an online marketplace that recently launched in Vermont, built for Moms to help other Moms. Whether you're a "working Mom" or a "Stay-at-Home Mom", you know the feeling of trying to be the best Mom you can be. Modern Day Village taps into a network of Moms with vast skills, knowledge, and the desire to work together, to help one another.
Visit ModernDayVillage.com to find rewarding work, create a profile to showcase your skills, and connect and collaborate with other Moms. It takes a village – one of incredible women, located anywhere, connected by technology through Modern Day Village.
11/9
This week we're focusing on 13 year old Sarah Hall and 12 year old Mason Bauer from Essex, Vermont, who are determined to help animals in any way they can! After they started M.A.P.S Dog Walking Service, as well as making and selling Paw Wax, they donate $100 of their earnings to different no-kill animal shelters one shelter at a time, until they reach their goal of donating to every no-kill shelter in Vermont.  To date, they've donated over $3,400 and they recently donated $100 to the Springfield Humane Society in Springfield, VT.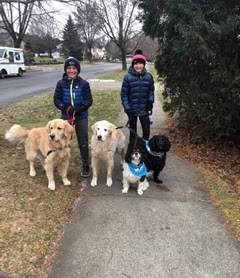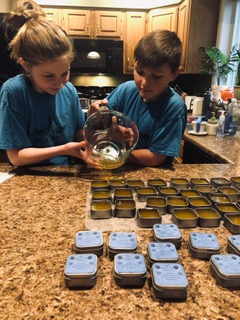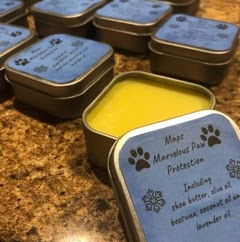 11/2
This week we're focusing on Eric and Lark Parker of LE Parker Properties and their "Powering the Love" fundraiser to benefit the Monadnock Humane Society in Swanzey, NH. Over the summer, a huge storm swept through the area, knocking down trees and taking down power lines, and MHS was without power for nearly 3 days. the temps were high and they desperately needed the care for the over 70 animals in the shelter. Going through this difficult situation made MHS realize the importance of having a back-up generator – two people in the community also recognized, and immediately stepped up to offer help. Eric and Lark Parker of LE Parker Properties decided to make a commitment to help raise the funds needed to purchase a generator that would power the entire facility should MHS lose power again.
LE Parker Properties kicked off the "Powering the Love" fundraiser with a donation of $2,500, as well as pledging 10% of all profits over the last few months to this cause. Nearly $10,000 has been raised so far, but with a goal of $40,000, there is still a ways to go.
WEEK OF 10/26
This week we shine the spotlight on Masks4Missions – an organization that partners with Vermont nonprofits to design, make, distribute and sell subsidized COVID-19 masks. Their mission is to deliver improved health for mask users and their communities, increase the wearers' affinity to nonprofits and local businesses, and broaden the public's awareness of nonprofits and local businesses – all in the service of building stronger and healthier communities.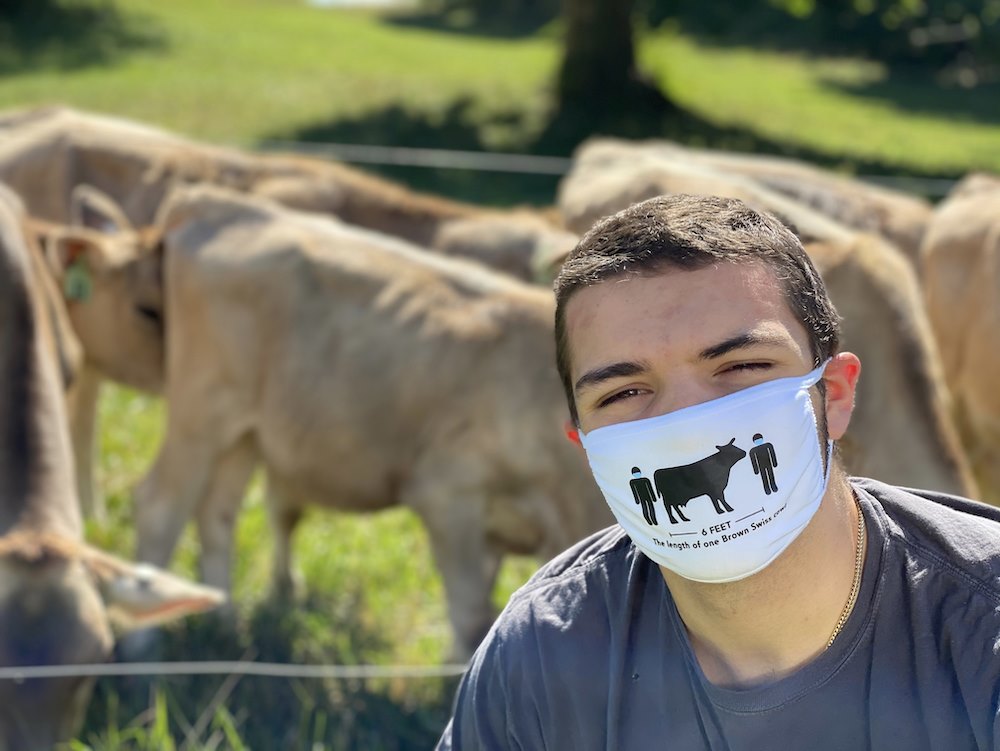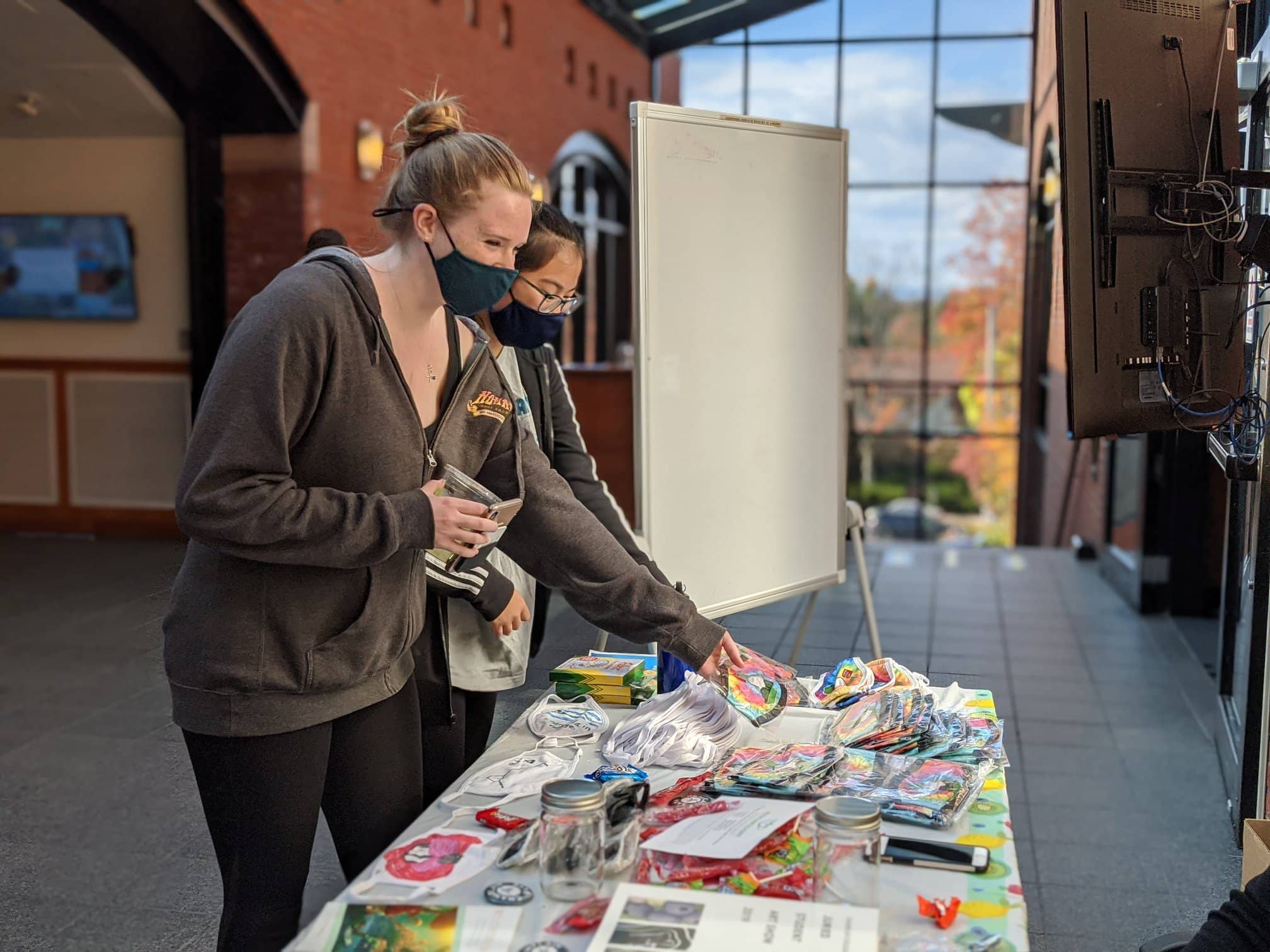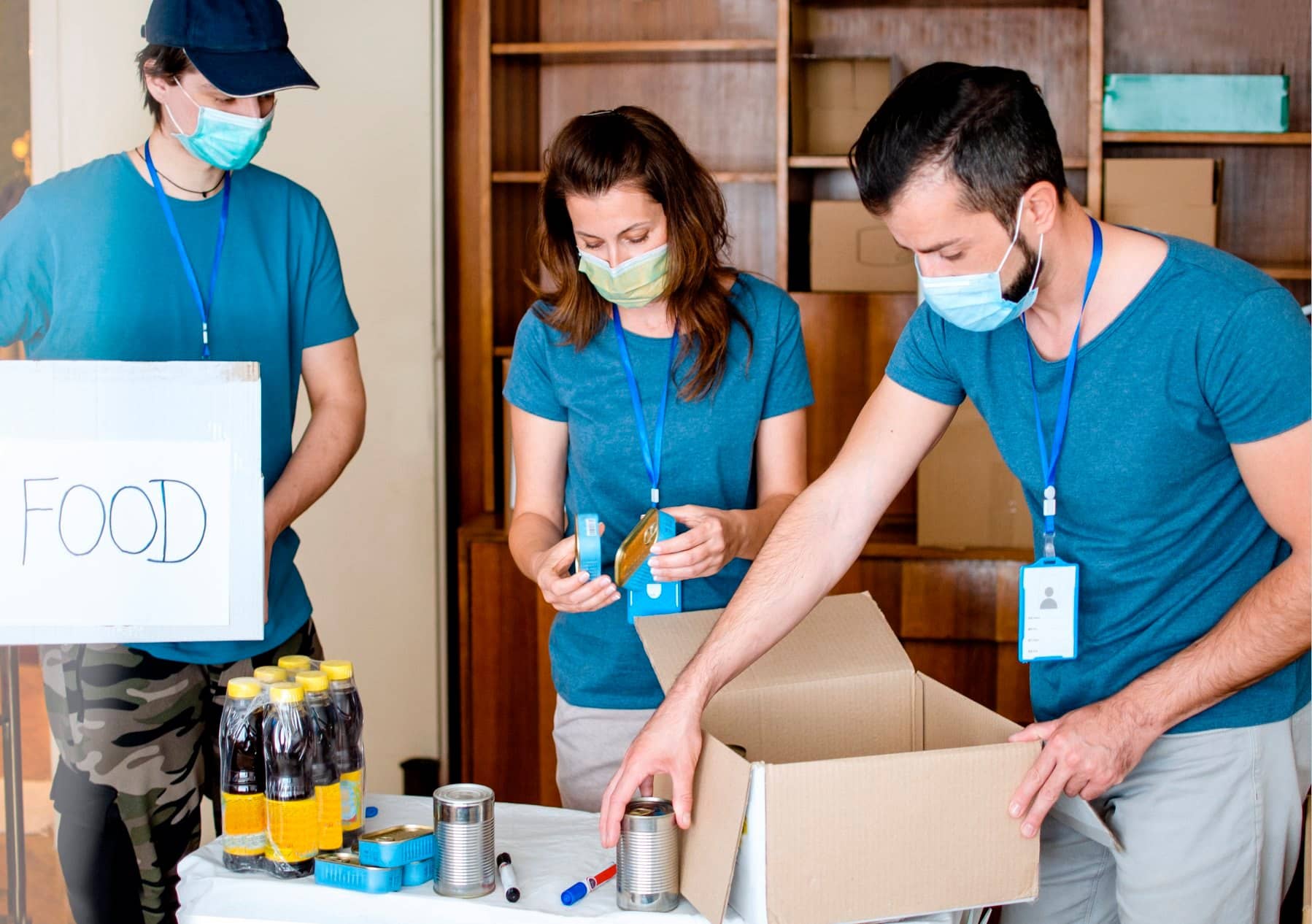 Masks4Missions was founded by Doug Altshuler, who graduated high school only a few months ago. Due to the pandemic, Doug wasn't able to participate in his summer job at Shelburne Farms, so he came up with the idea to design and sell masks bearing the Shelburne Farms imagery. Word got out about his "little" project, and shortly after, Masks4Missions was made! Now Doug is managing this statewide youth-led and youth-centric effort to design and provide COVID-19 masks that promote Vermont's local non-profits and protect the health of all Vermonters.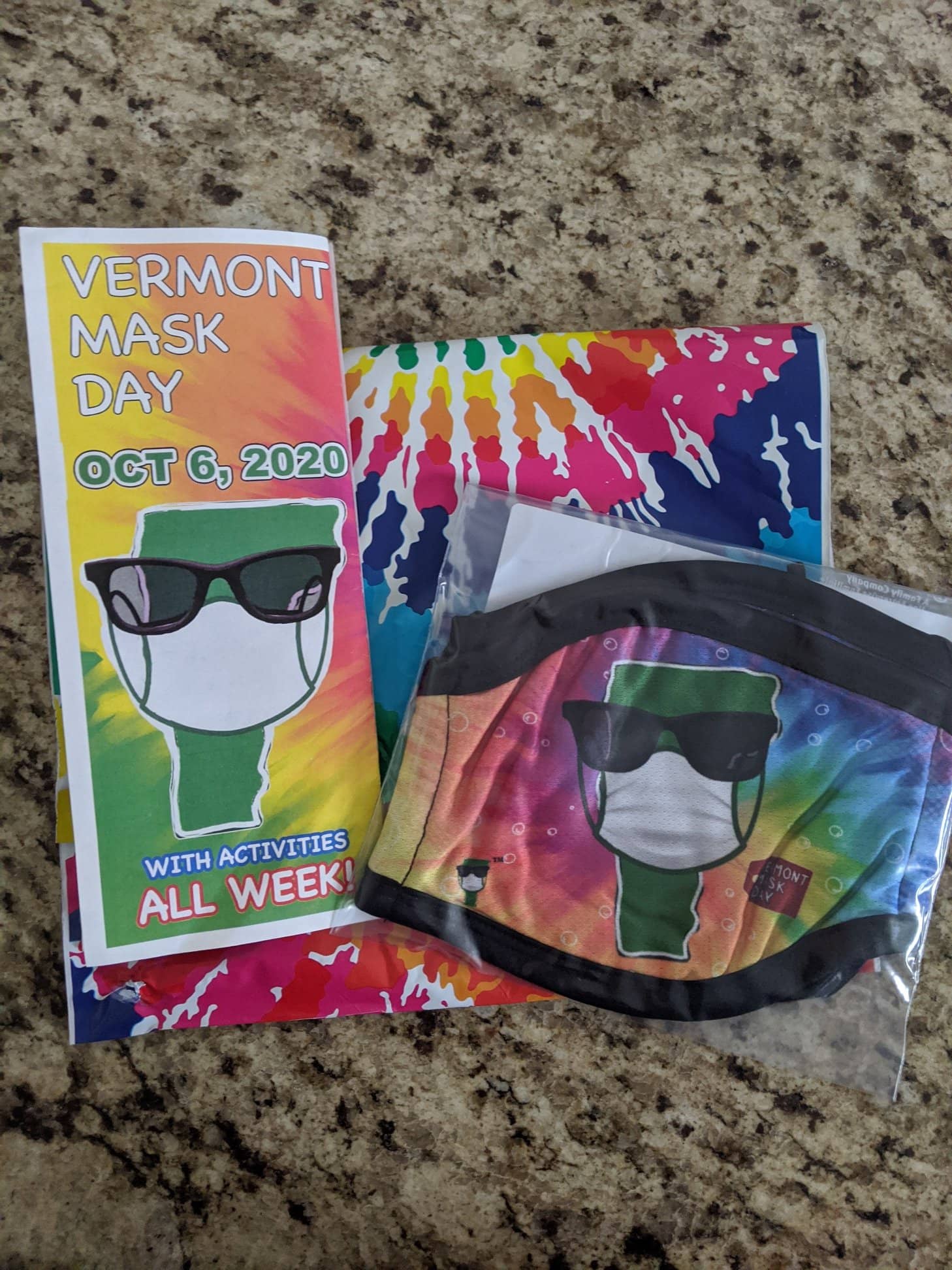 https://www.instagram.com/masks4missions/
WEEK OF 10/19
This week we focus on The Loose Knit Group (LKG), an independent service organization comprised of members and non-members of the West Dover Congregational Church. Proceeds from its fundraising activities are donated to the church and to other charities in the community as are in keeping with the church's mission. The LKG is a great example of how service can be selfless as evidenced by the joyful and spirited nature of this force for good in our valley.
The LKG orchestrates several community-centric events throughout the year – an attic and treasure sale, a marathon apple pie baking event, a souper supper… when the pandemic hit, the LKG sewed facemasks free of charge for the community, and soon they'll be sponsoring a "mitten tree" displayed at the church where folks are encouraged to hang mittens, hats and scarves on the tree for those who may be without.
One of their major outreach programs in the community is "Food 4 Kids", a direct response to food insecurity among some elementary children. For children identified by the principals of the Twin Valley, Wardsboro, Marlboro, and Dover elementary schools, volunteers from the church and community pack bags of non-perishable food and sends these bags home with the children each Friday. The food is purchased by monetary donations, fundraisers, churches and locals who donate food. The Food 4 Kids program continues to grow as a result of the needs of the school children.
WEEK OF 10/12
This week we focus on Hunger Free Vermont, and the 3SquaresVT Program. The COVID-19 Pandemic is impacting all individuals and families across Vermont, and many are experiencing the consequences of reduced working hours and wages, school closures, and limited access to services and transportation due to social distancing. 3SquaresVT is an important Federal Food Program that can help households buy food during the crisis. When you use 3SquaresVT benefits, you can buy the foods you like to eat – you'll get a plastic card that looks like a credit card, and you can use it at most grocery stores, convenience stores, markets, and co-ops. To find out if you qualify, visit hungerfreevt.org.
WEEK OF 10/4
This week we highlight The Rotary Club of the Deerfield Valley and Operation Warm, an initiative that purchases new winter coats for children in need. Operation Warm partners with local schools and uses community outreach to find recipients. The Rotary Club of the Deerfield Valley purchases the coats, at a very reasonable cost through the Operation Warm organization, and the coats are distributed free of charge to the recipients. Last year, over 200 new winter coats were distributed to local school children. With the help of generous donations, The Rotary Club of The Deerfield Valley will continue to help keep kids warm in the winter months.

This Friday at 5:05pm, Elise Valentine will chat with Sarah Shippee from The Rotary Club of the Deerfield Valley to learn more about Operation Warm.
WEEK 9/28
This week we focus on The Greater Keene Rotaract Club and their "Send a Scarecrow" fundraiser! Join them in welcoming in fall and giving back to the community. It's designed to be socially distanced, where you can send a "Russell and Sheryl scarecrow" to a loved one in the Keene area from the comfort of your own home. The proceeds of this event will benefit Rotaract's local service projects which include work with Hundred Nights shelter and The Community Kitchen, among other non-profits.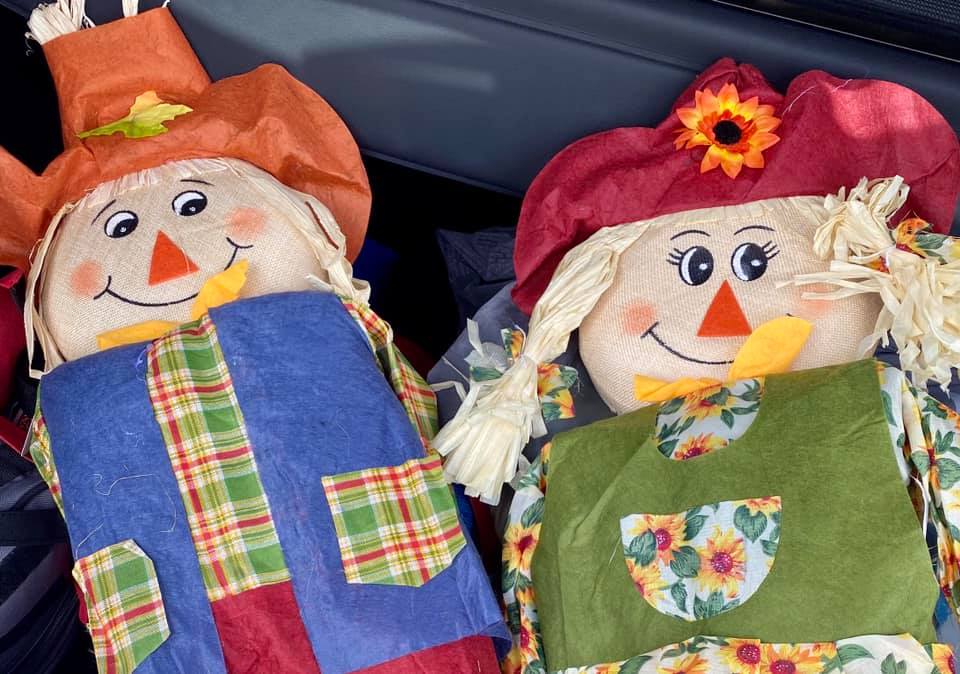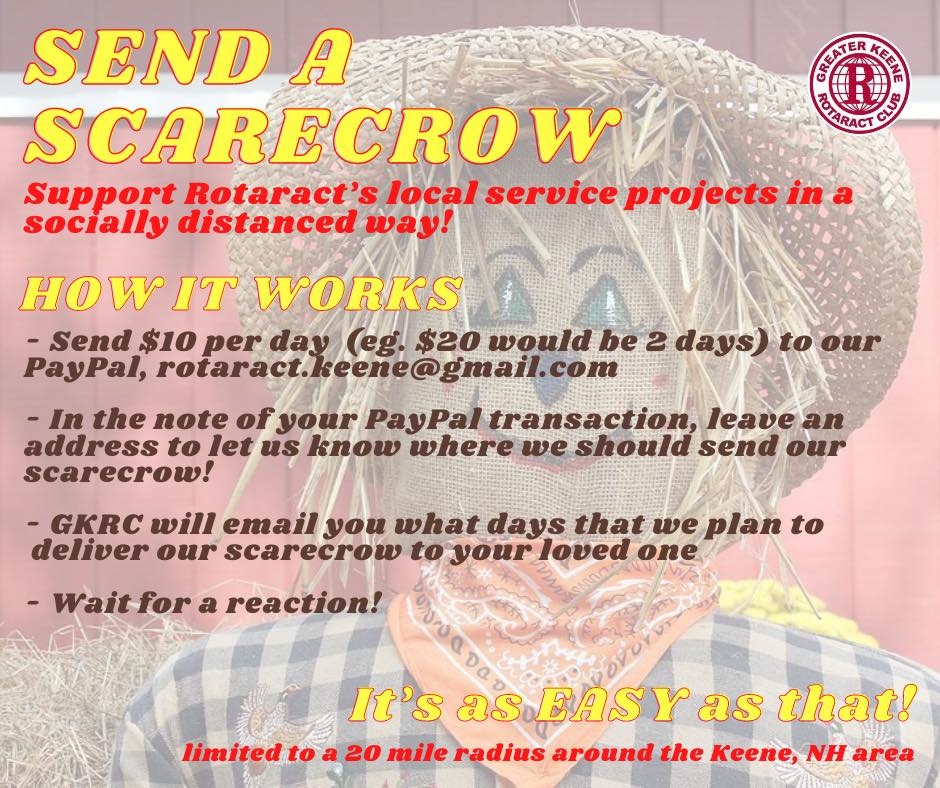 Friday at 5:05pm Elise Valentine will chat with Beth Woods to hear more about The Greater Keene Rotaract Club's "Send a Scarecrow" fundraiser.
WEEK OF 9/21
This week we spotlight Cedarcrest Center for Children with Disabilities and their 9th annual Walk & Roll fundraiser. The money raised through the Walk & Roll will help fund operating costs that are not covered by Medicaid or other funding sources. Cedarcrest works so hard to provide all the medical, respiratory support, therapy and special education programming for infants, children, and young adults.
While the Walk & Roll event may look different this year due to COVID, the fundraising is still as important than ever – you can register to walk and complete your 2.1 miles anytime between now and October 3rd. You can also make a direct donation to help Cedarcrest hit their $23,000 goal. Click HERE to register and for more information.
Friday at 5:05pm, join Elise Valentine as she chats with Patty Farmer of Cedarcrest to learn more about their Walk & Roll fundraiser.
WEEK OF 9/14
This week we focus on Reading on the Road, a student-run initiative that collects children's books and distributes them throughout The Monadnock Region. In doing this, Reading on the Road hopes to promote healthy reading habits and provide access to books for all children. Since the beginning in 2018, they have provided books to various organizations including Head Start Daycares, The Keene Rec Center, The Keene Community Kitchen, The Salvation Army, Keene Community Education, and various after school programs in the region.
Since the onset of the pandemic, Reading on the Road has distributed over 10,000 books to kids, free of any charge, by partnering with Feeding Tiny Tummies and Southwestern Community Service's free lunch program… they've also begun offering deliveries of books to families that request them.
This Friday, join Elise Valentine at 5:05pm, as she chat with Georgia and Amelia from Reading on the Road to hear more about this wonderful organization.
WEEK OF 9/7
This week we focus on the Connecticut River Conservancy and the thousands of volunteers like YOU to help make water cleaner, river banks safer, and wildlife happier, in the annual "Source to Sea Cleanup"… an annual  trash cleanup of the Connecticut River and tributaries across NH, VT, MA & CT.
Due to COVID-19, the annual cleanup has been extended to the entire month of September, and participants can clean up any time during the month to ensure safe physical distancing. Get involved as an individual, or as a group… click HERE for more information!
WEEK OF 8/31
WEEK OF 8/24
This week we feature 6 year old Ella Wilson who loves helping people. Throughout this pandemic her Mom Jewels has been trying to encourage openness and explain it to Ella in kid friendly terms. Recently, the two were watching the news and Ella heard how many people are out of work. She became really upset and worried about it and asked if she and her Mom could do something to help. Her Mom told her she thought it was a great idea. After brainstorming they decided to try and raise some money to buy grocery gift cards for families in their Winchester, NH community in need. They would like to help at least 5 families in our community as a starter goal, but would love to keep it going as long as they can! They would really appreciate any donation you are able to make to support Ella's passion of helping others!
Join Elise Valentine Friday at 5:05pm as she chats with Ella Wilson and her Mom Jewels, to hear more about how Ella is helping neighbors.
WEEK OF 8/17
This week we chat about the "Music Under the Stars" Drive-In Concerts Coming August 28 and 29.
A throwback to the 1950's, drive-in concerts are turning out to be this summer's entertainment salvation. This popular phenomenon has been happening in big cities like Chicago and L.A. and now, in small towns like Brattleboro.
On August 28 and 29 the Brattleboro Music Center and Retreat Farm will present two live drive-in concerts for the community's enjoyment, as part of their "Music Under the Stars" series that was so popular last summer and named one of Vermont's Top Ten Summer Events.
On Friday evening, August 28 the BMC Pops Orchestra 2020 with conductor Zon Eastes will perform Mozart, Britten, Montgomery and Joplin. On Saturday evening, August 29, the VJC Seven will take the stage with jazz vocalist Wanda Houston. The rain date for both events is Sunday evening at 6pm.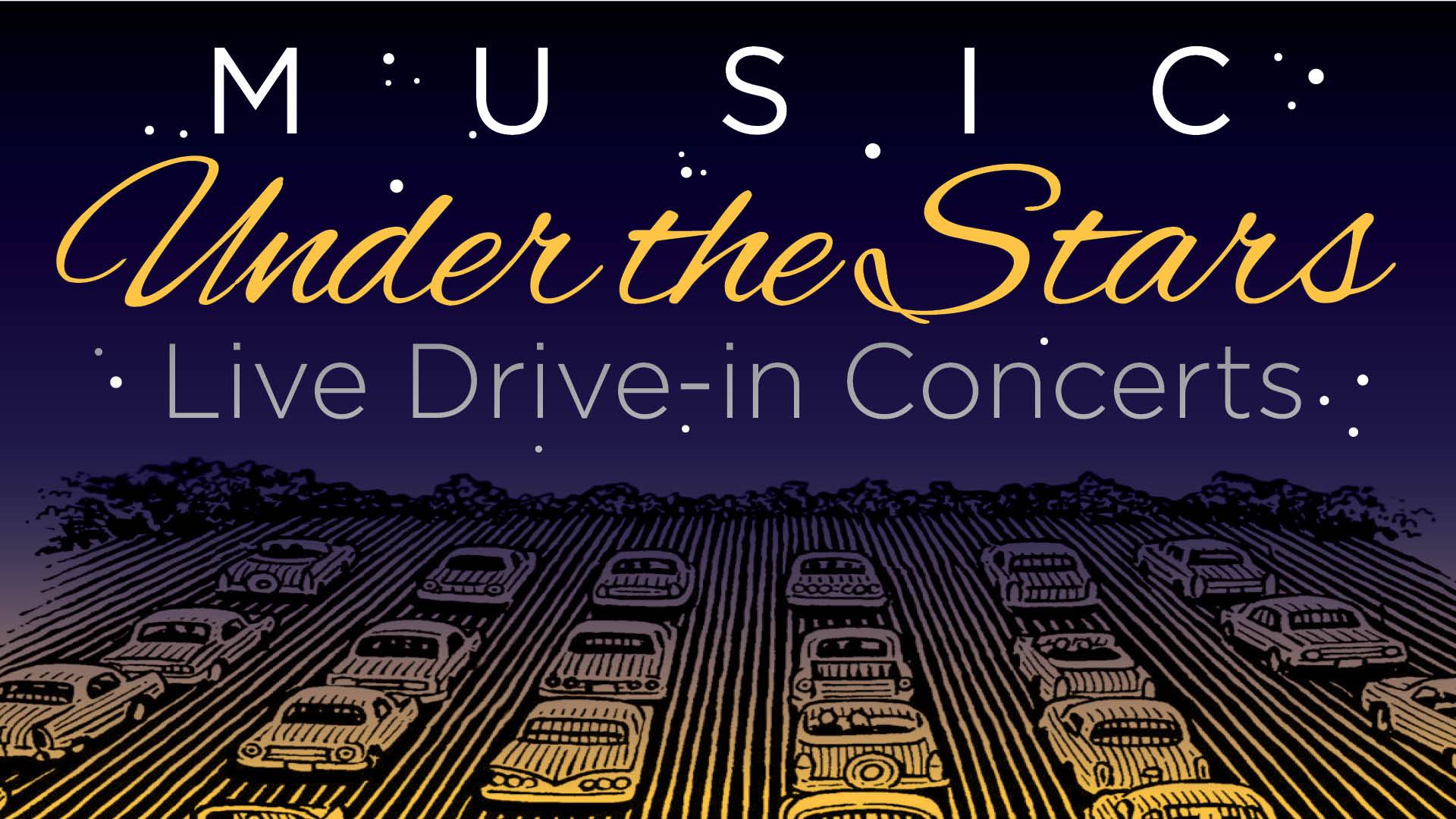 Both concerts are free and everyone is welcome. A suggested donation of $20 per car is very much appreciated to help defray costs.
The events will take place on the Concert Stage at Harris Hill on Cedar Street in Brattleboro. Bring your lawn chairs and a picnic as you enjoy live music in a magical Vermont setting, safe and socially-distanced. Gates open at 5pm and concerts begin at 6pm.
Advance reservations are required. You will be assigned a space for your vehicle as well as the adjacent space for outdoor seating! No walk-ins will be allowed.
We hope to see you this summer for our "in your car" concerts!
Reserve a Ticket HERE!
Visit the event page on Facebook!
WEEK OF 8/10
This week we shine a little light on the Everyone Eats! program in Brattleboro. For the past six weeks, Foodworks along with several other local partners, has been helping to implement this program, using Federal Funds to pay restaurants to prepare meals for those impacted by COVID-19. Everyone Eats! provides high-quality meals for and wide: to our neighbors staying in hotels, to human service and social justice organizations, as well as to families and individuals – no questions asked – every Monday through Thursday throughout August from 4pm to 6pm at the C.F. Church building on Flat Street in Brattleboro.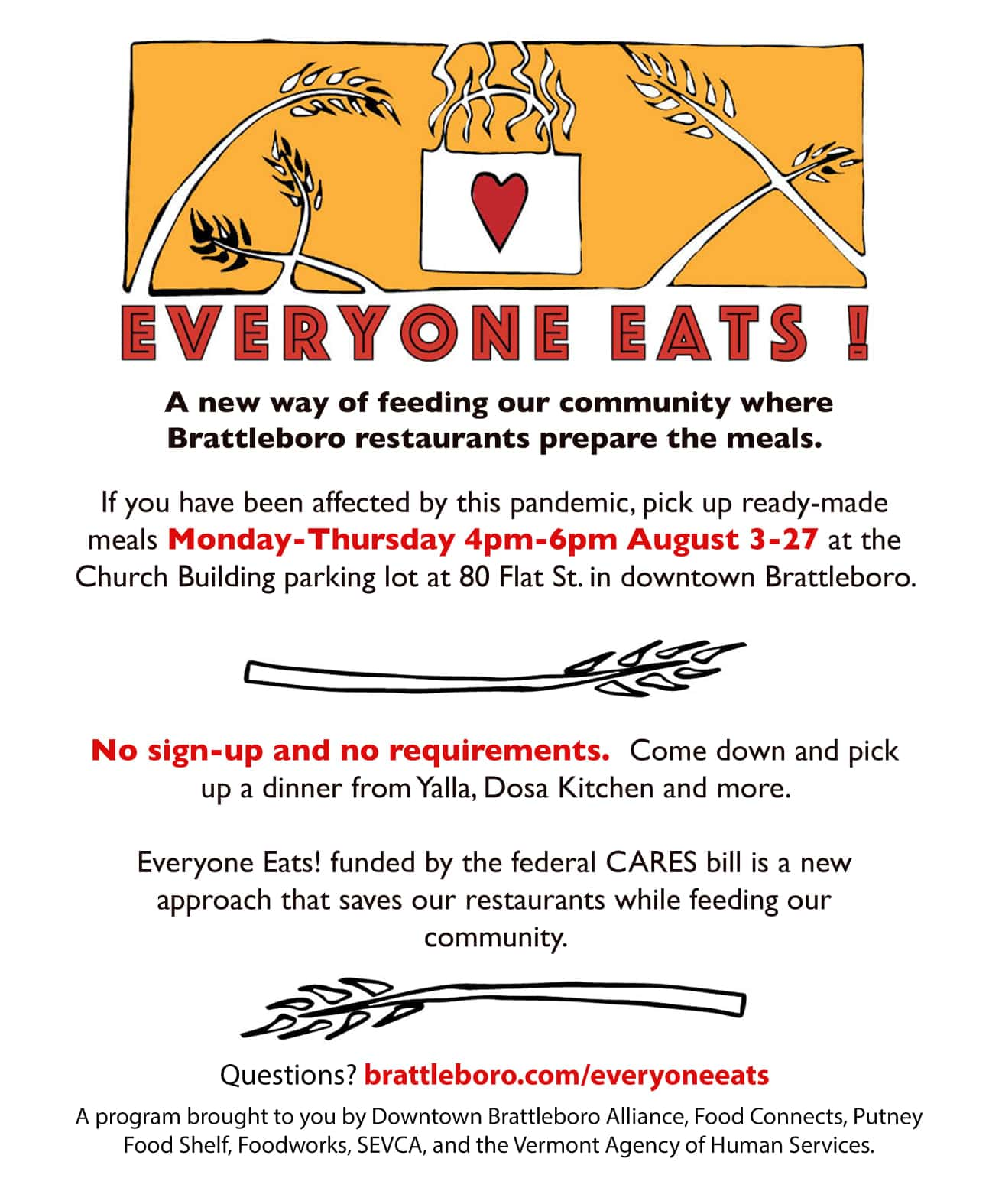 WEEK OF 8/3
This week we're focusing on Groundworks Collaborative in Brattleboro, Vermont, a shelter and supportive services for those suffering from homelessness and extreme poverty offering food support services for anyone in need. They support basic needs with dignity through their shelters, food shelf and a range of services. When COVID was advancing toward Vermont, with the state's support and guidance, Groundworks quickly moved everyone experiencing homelessness into local motels, allowing for separation and limiting the spread of COVID. So far no infections! Groundworks also changed how they provide food, moving to a delivery model. The number of people accessing food supports has doubled. Groundworks is currently working on options to keep people in housing, as they've interrupted homelessness – and they don't want to go back to 'normal'.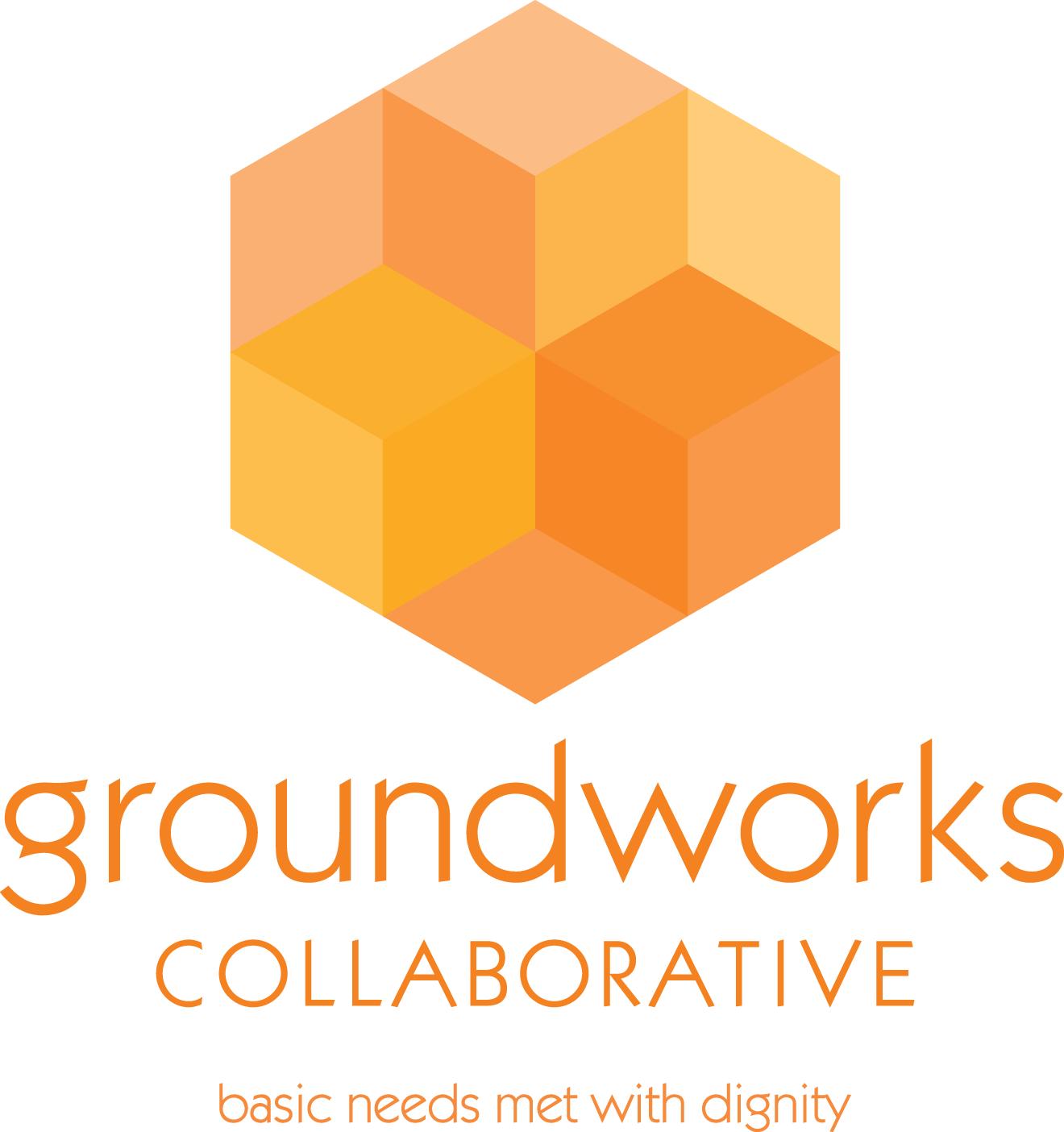 Tune in Friday at 5:05pm as John Bailey interviews Laura Chapman from Groundworks Collabortive to hear more about how the organization continues to assist and support the homeless.
To learn more, visit the Groundworks Collaborative website HERE.
Follow Groundworks Collaborative on Facebook HERE.
WEEK OF 7/27
This week we're focusing on the Hops For Hope 5K, an annual fundraiser for the American Cancer Society which provides the necessary funds for us to support cancer survivors, caregivers and their communities.  
2020 will be a new adventure as we turn this into a Virtual Event! Join from across the street or across the country –  The fight for a world without cancer reaches far and wide! There are 2 registration options (both are a 100% tax-deductible donation) for individuals or teams.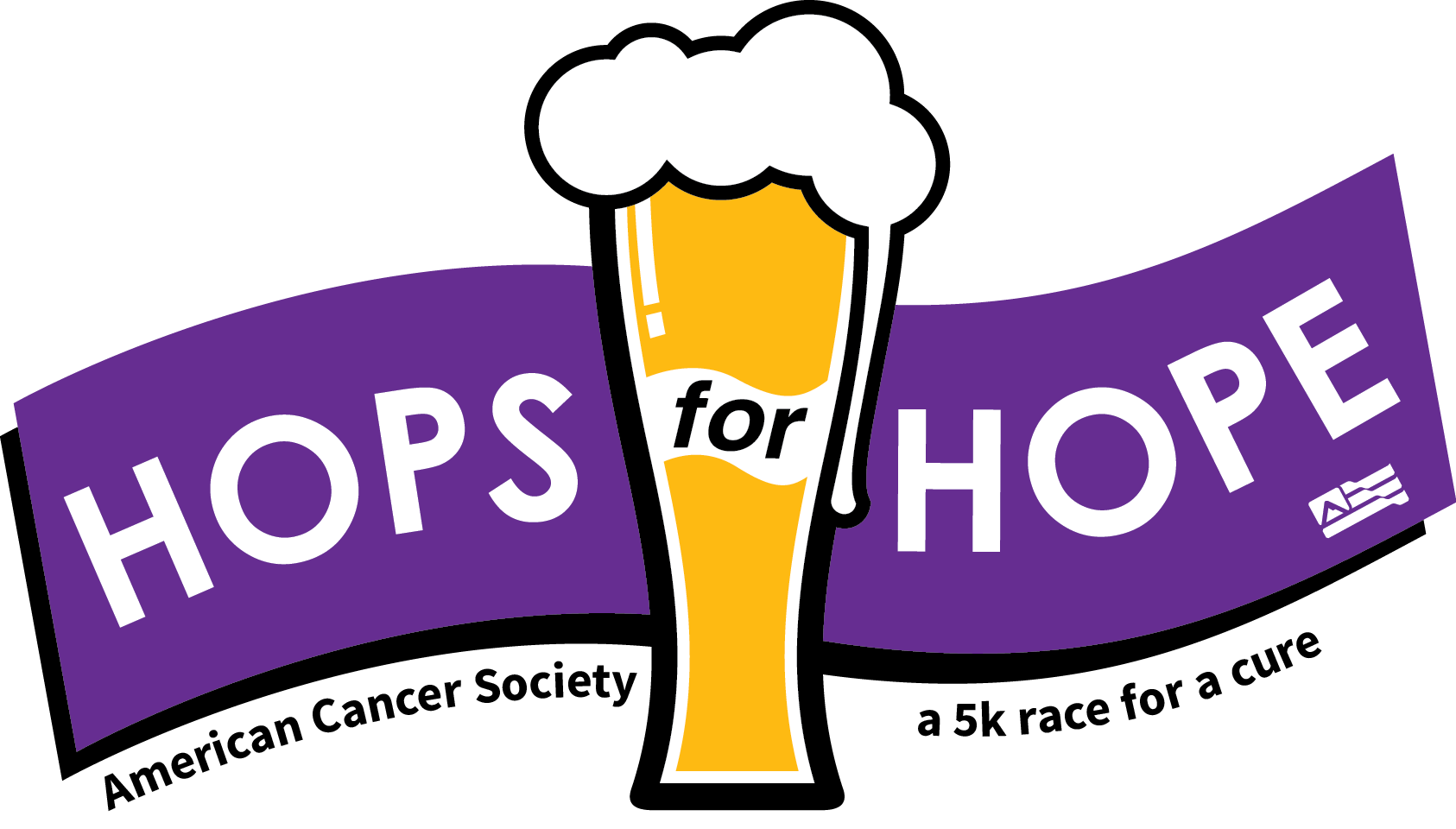 Participants are encouraged to complete their 5K anywhere that that have the ability to safely run, walk, ride, roll, etc. Each Monday in August registered participants will receive a new WEEKLY CHALLENGE in their inbox which enters them into a weekly prize.
The Top Fundraiser will WIN A Northeast Value Epic Pass, valued at $599 donated by Mount Snow. When a participant FUNdraises $100 or more they are automatically entered to win 1 FREE night stay at the Vermont Huts Association Chittenden Brook Hut. More giveaways will be announced on our Social Media accounts throughout the month.
Register or Donate HERE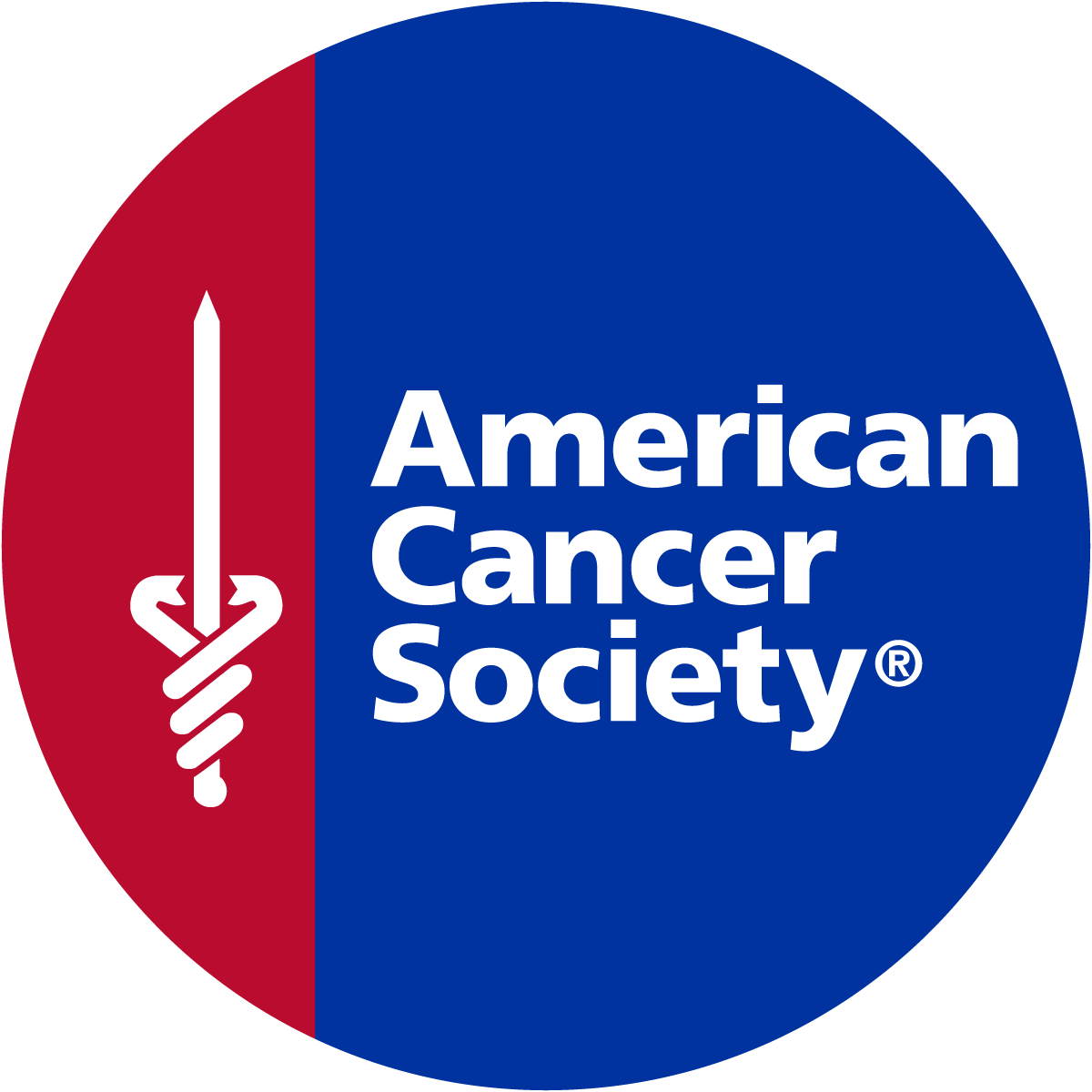 WEEK OF 7/20/2020
This weekend, Thursday July 23rd through Sunday July 26th, Thanksgiving in July is back, a local fundraiser collecting monetary and non-perishable food donations to assist hungry children in need.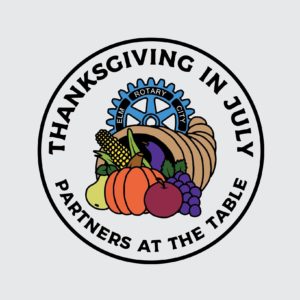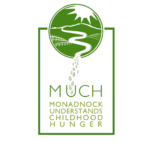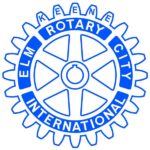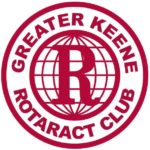 Keene Elm City Rotary, Greater Keene Rotaract Club, and the Monadnock Understands Childhood Hunger Coalition (M.U.C.H) are coming together to ensure that the hallmark fundraising effort doesn't fall victim to the COVID-19 pandemic.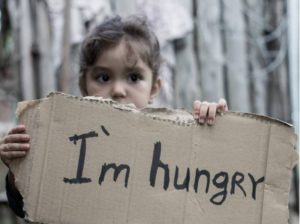 Children in our region are food insecure, and, unfortunately, this problem isn't just not going away, it is becoming dire.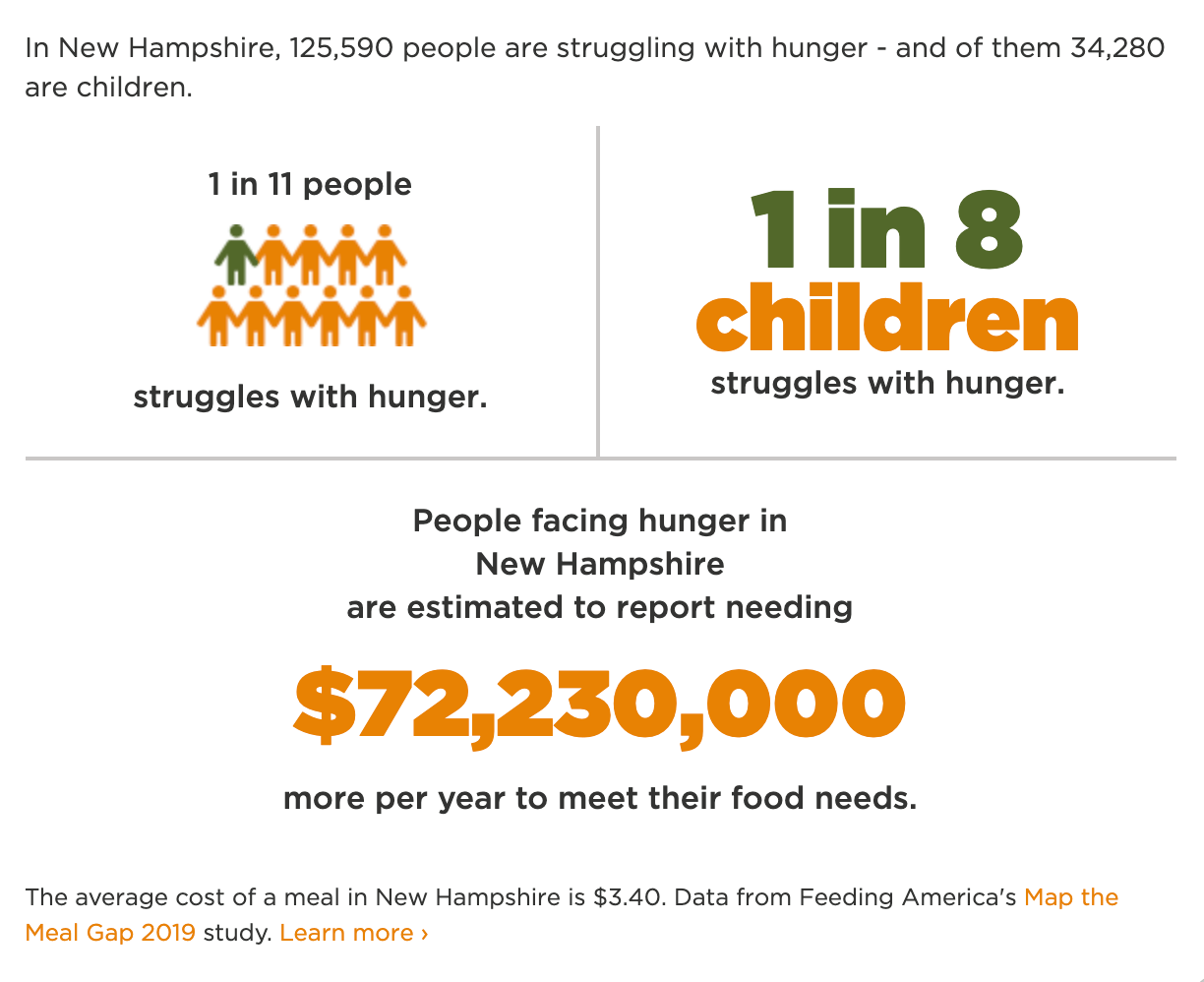 There are a couple different ways to make your contribution to help feed local children! Visit the Thanksgiving in July website HERE and click "DONATE" to place your monetary donation, or drop off your shelf-stable goods in the drop box in front of Ted's Shoe and Sport in downtown Keene. All funds will directly support local children in need of food.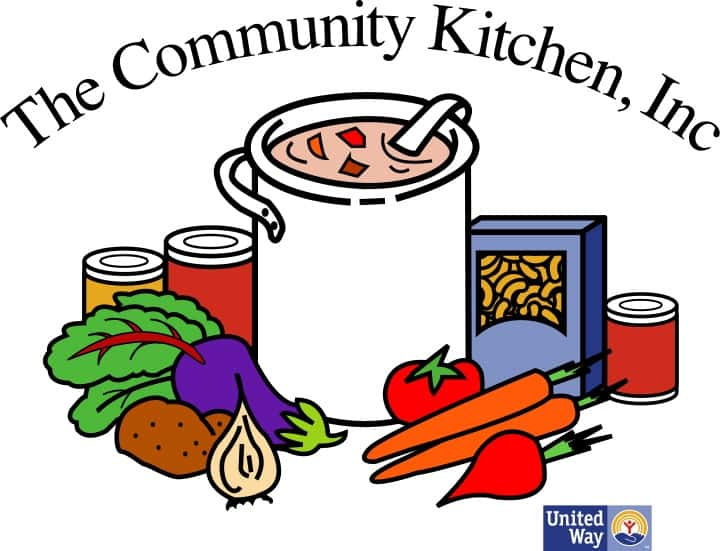 WEEK of 7/13/2020
This week we focus on The Deerfield Valley Rotary Club — Due to COVID-19, the Rotary Club had to cancel its traditional fundraisers so instead, is hosting an outdoor Garden and Live Music Tour this Saturday, July 18th, from 12-4pm, rain or shine. It will be a self-guided tour where you can visit beautiful gardens in our valley in any order you would like, and see live musicians perform! Visit some or all at your own pace. Tickets are a $25 donation, and can be purchased HERE or at the Chamber of Commerce in Wilmington when they are open. There will be a limited number of tickets sold, so get your tickets while supplies last!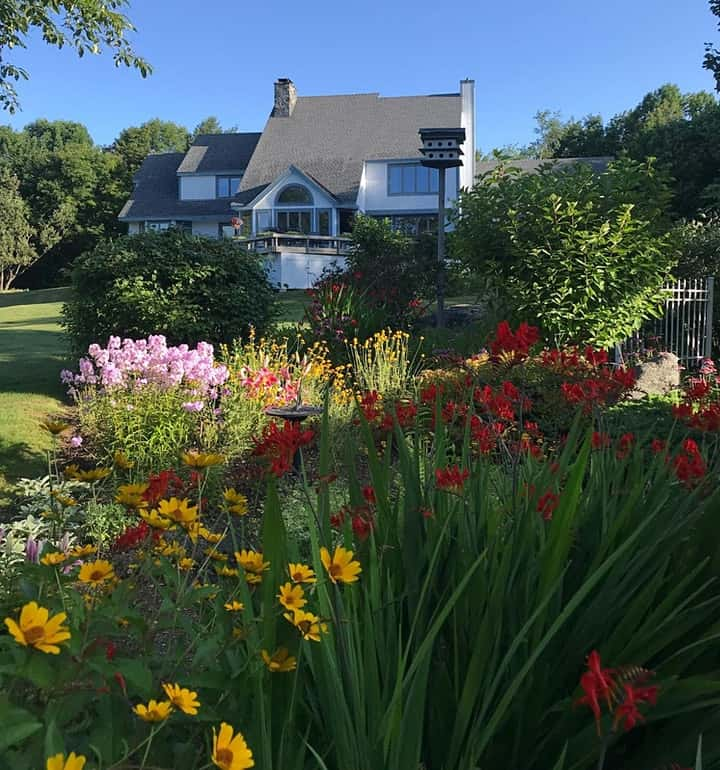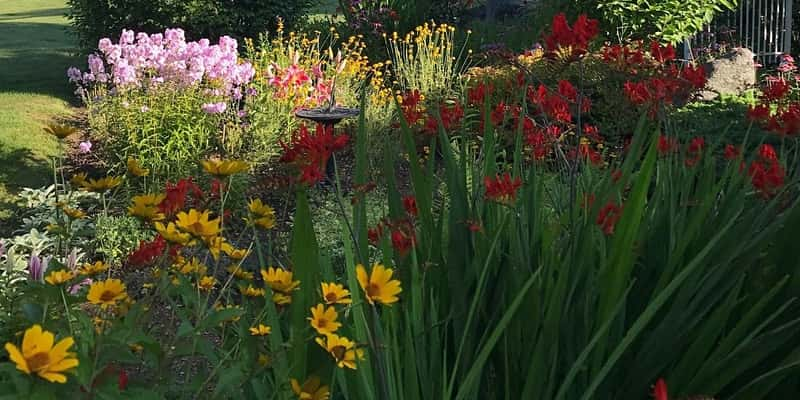 The Deerfield Valley Rotary raises money to then donate to the local community where it is needed,  so you can enjoy a great afternoon while giving back to the local community at the same time!
For information about this event and to see the list of musicians that will be performing as well as descriptions of some of the gardens, click HERE. There will even be a couple of artists selling their crafts/art, including a local favorite, Ann Coleman!
Follow The Deerfield Valley Rotary Club on Facebook!
WEEK Of 7/6/2020
This week we focus on two juniors from Keene High School, Mike Mariani and Devin McLaughlin who recently set out on a "Pedaling for Prevention" Tri-State bicycle journey (approximately 700 miles through NH, VT & ME) raising awareness for suicide prevention and honoring Mike's brother Nathan Mariani, who died by suicide in 2018. Shortly into the trip, Devin suffered a knee injury, so the trip unfortunately had to end, however, determined to continue to spread their message that "long journeys can lead to beautiful destinations", they altered their plans, regrouped and set out on a suicide awareness speaking tour.  They completed this tour on Monday 6/30 and were greeted with a hero's welcome in Chesterfield, NH.  When medical staff allow it, Mike and Devin plan to redo their New England ride, and also plan to cross the country (their original plan before COVID-19) in the summer of 2021 just after their Keene High School graduation.

The amazing team at Bulldog Design helped the boys create a line of Pedaling For Prevention apparel. All proceeds benefit the ride and suicide prevention. Click HERE to order your apparel.  The store is open through July 15th. New items have been added, including face masks.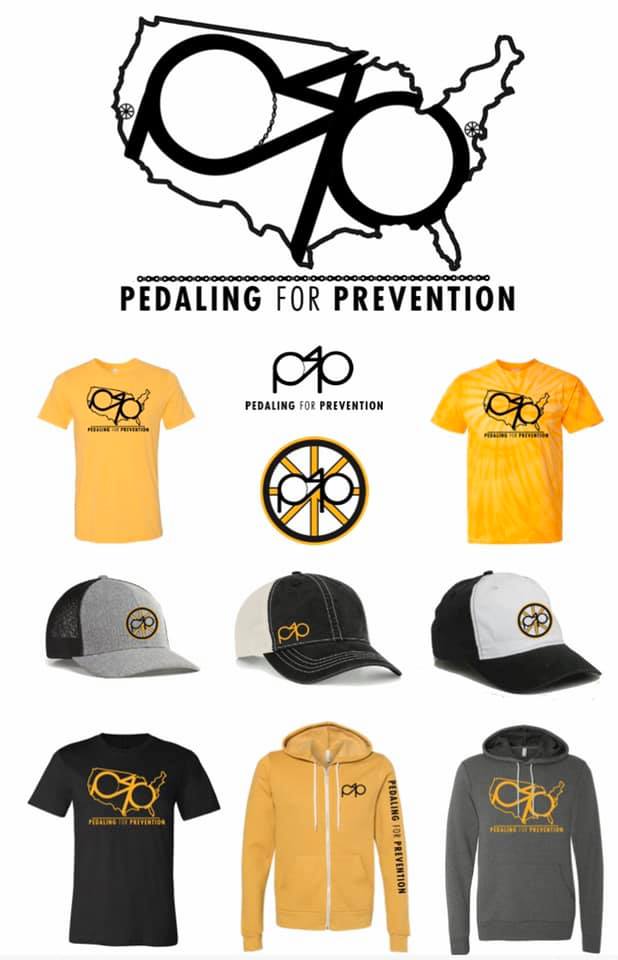 Any proceeds from their "Pedaling For Prevention" ride benefits The Samaritans, a local suicide prevention agency.
Donations can made at any Savings Bank of Walpole branch or mailed to:
Pedaling For Prevention, c/o Savings Bank of Walpole, PO Box 744 Keene, NH, 03431.
Letters of support can be mailed to:
Pedaling For Prevention, PO Box 303, Spofford, NH 03462.
Email: PedalingforPrevention2020@gmail.com
Instagram: https://www.instagram.com/pedalingforprevention2020/?hl=en
Venmo: https://venmo.com/pedalingforprevention2020
FaceBook: https://facebook.com/pedaling4prevention2020/
Go Fund Me: https://www.gofundme.com/f/sq26t-pedaling-for-prevention
For more information please visit: http://pedalingforprevention.com.
WEEK OF 6/28/2020
This week we focus on Stuart and John's Sugar House and Windyhurst Dairy Farm, in Westmoreland, NH.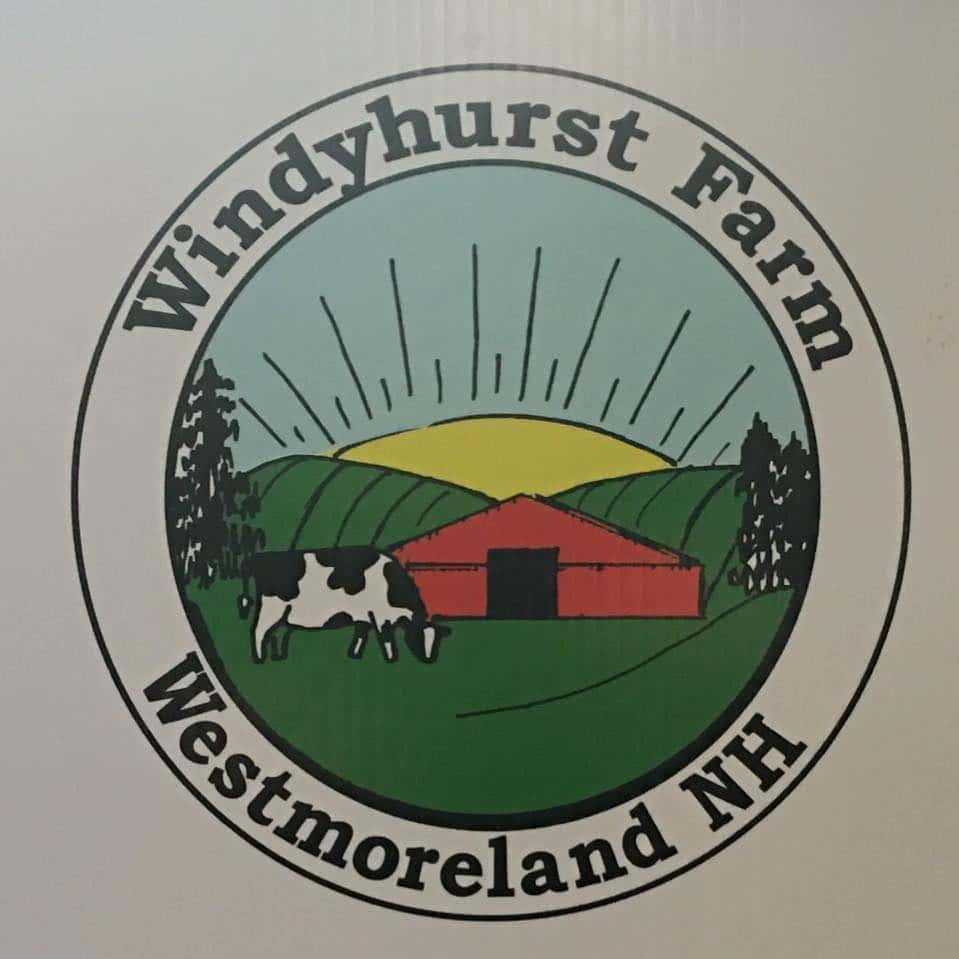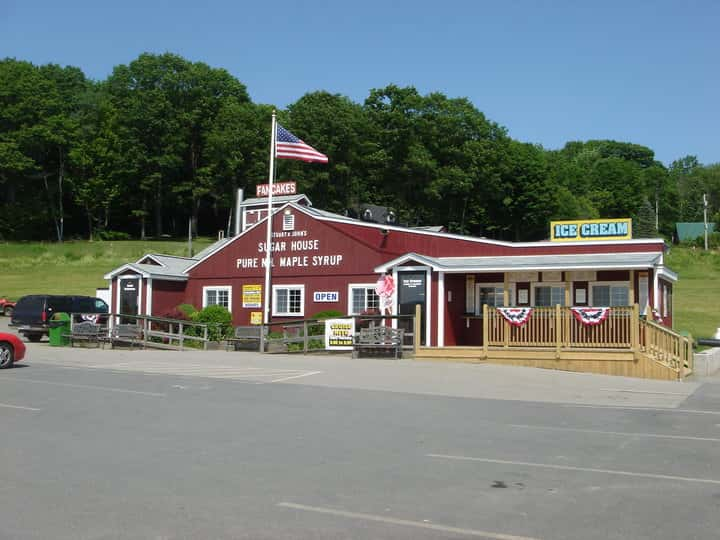 Stuart & John's Sugar House is known for maple syrup, pancakes and the like. Many people don't realize that Stuart and his wife Robyne also own and operate the Dairy Farm right across the street—Windyhurst Farm. The Adams Family has 4 generations living and working on the farm in various ways.
The Adams family has one of the remaining few dairy farms left in NH. In a state that had hundreds of dairy farms less than a generation ago, they are now one of only about 94 farms left in this state. It's more expensive to produce milk in the northeast. Milk prices have been too low for too long and many farms have been forced to sell.
In 2020, the milk price forecast was looking just slightly better. Farms around the state might have even come close to breaking even for a while. Then, COVID happened with devastating effects on milk income…essentially, the income was cut in about half of what it had been at the beginning of the year.
Through the spring, Stuart and John's and Windyhurst Farm had to get creative with the situation they were all forced into. They sold ice cream and their own beef in March and April out the take out window to customers who were brave enough to venture out when there were so many unknowns. They brought in some frozen foods and supplies that they could get from their restaurant suppliers to sell to people. They have slowly been trying to reopen.
During those unsettling times, it was hard to know what to do. They felt so helpless. As a family they believe strongly in their motto—to let their family serve your family. How could they serve our community during this time, when they weren't sure if they would even have a future farming with all this uncertainty.
In the midst of it all, they started to hear about how places around the country were running fundraisers to donate milk to people in need. A great idea—a mutually beneficial solution to solve two problems—people needing food, and farms having an oversupply and being forced to dump milk. They thought they would try it out for a week or two, and see how it went.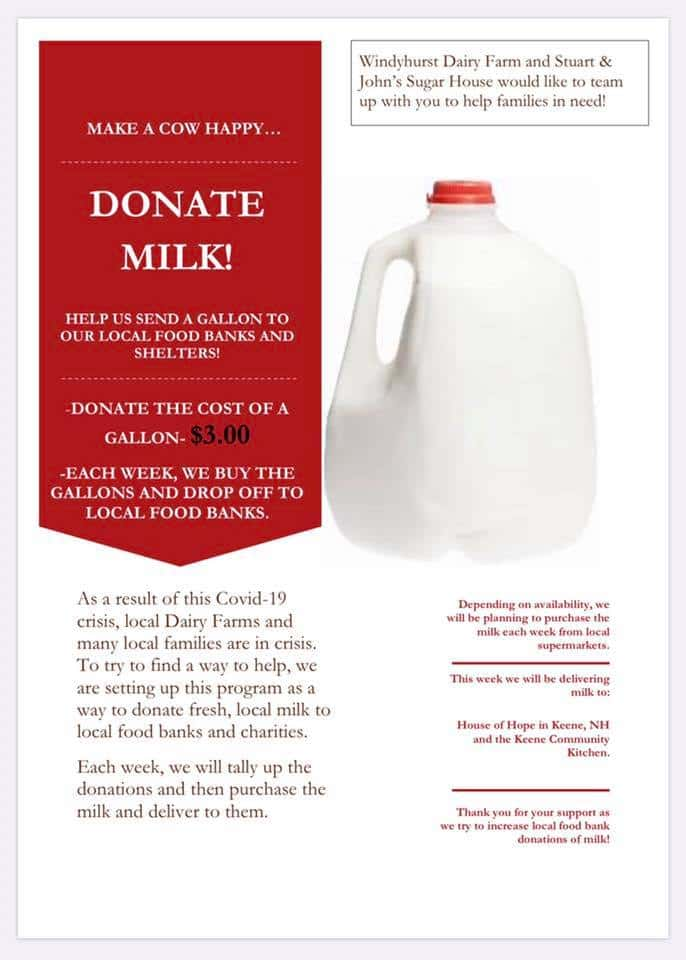 They started the first week in May. They were thinking maybe they would get 15-20 gallons in donations that first week…and they got 48 right off the bat! They ended up with another 128 that weekend that they spread into the following week.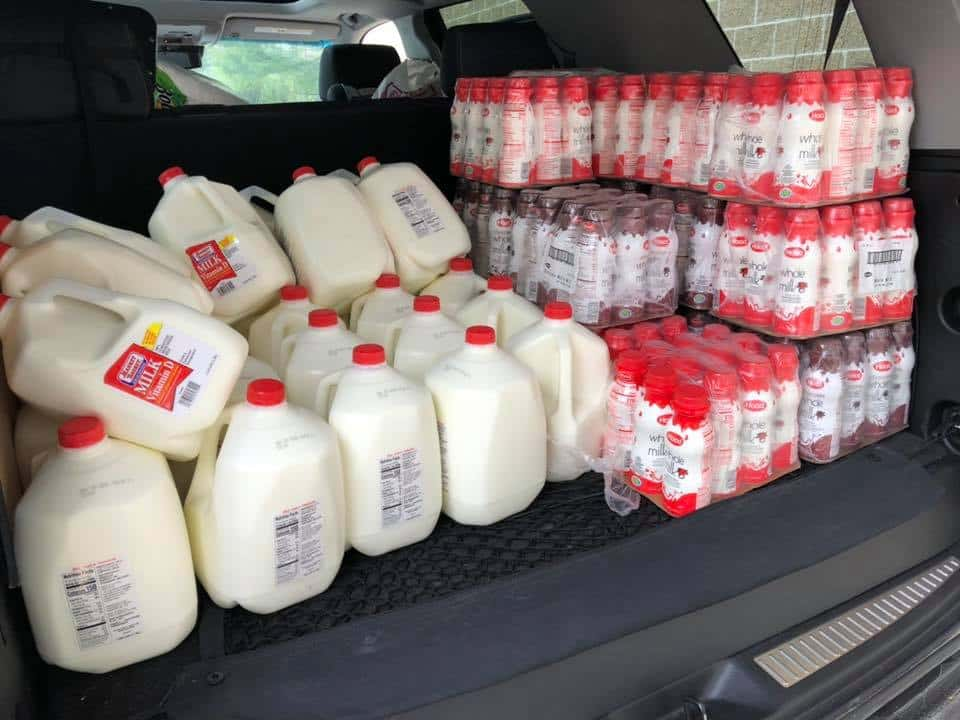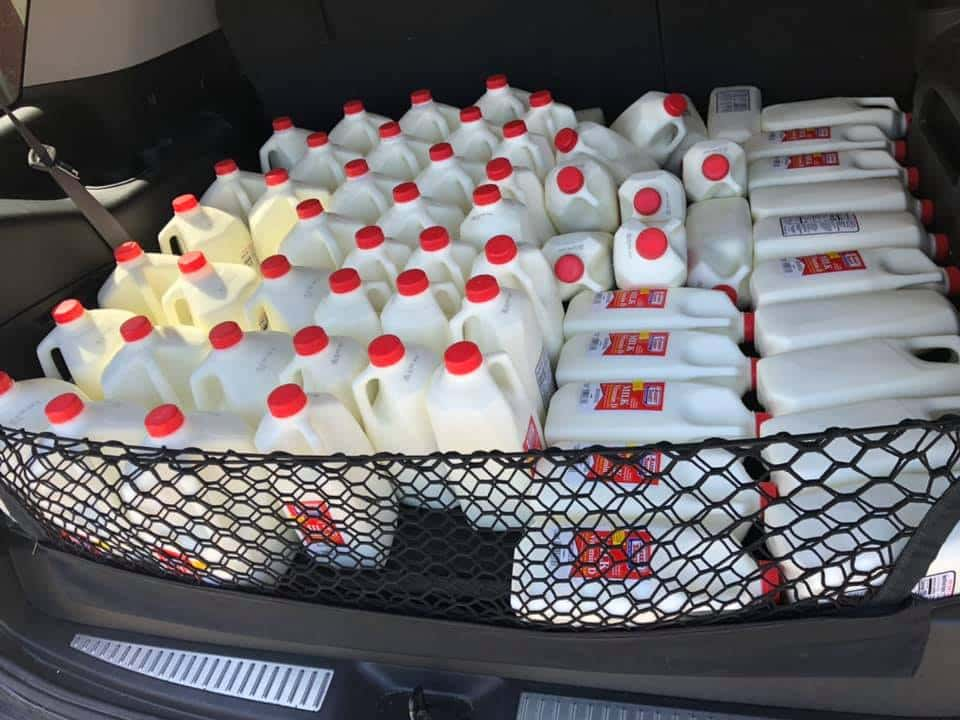 They contacted a few local food kitchens and found that
The Community Kitchen
in Keene would accept milk donations, as well as a rehab home called
House of Hope
. Then after they got up and running, they were contacted by
Feeding Tiny Tummies
and they have started donating to them, too.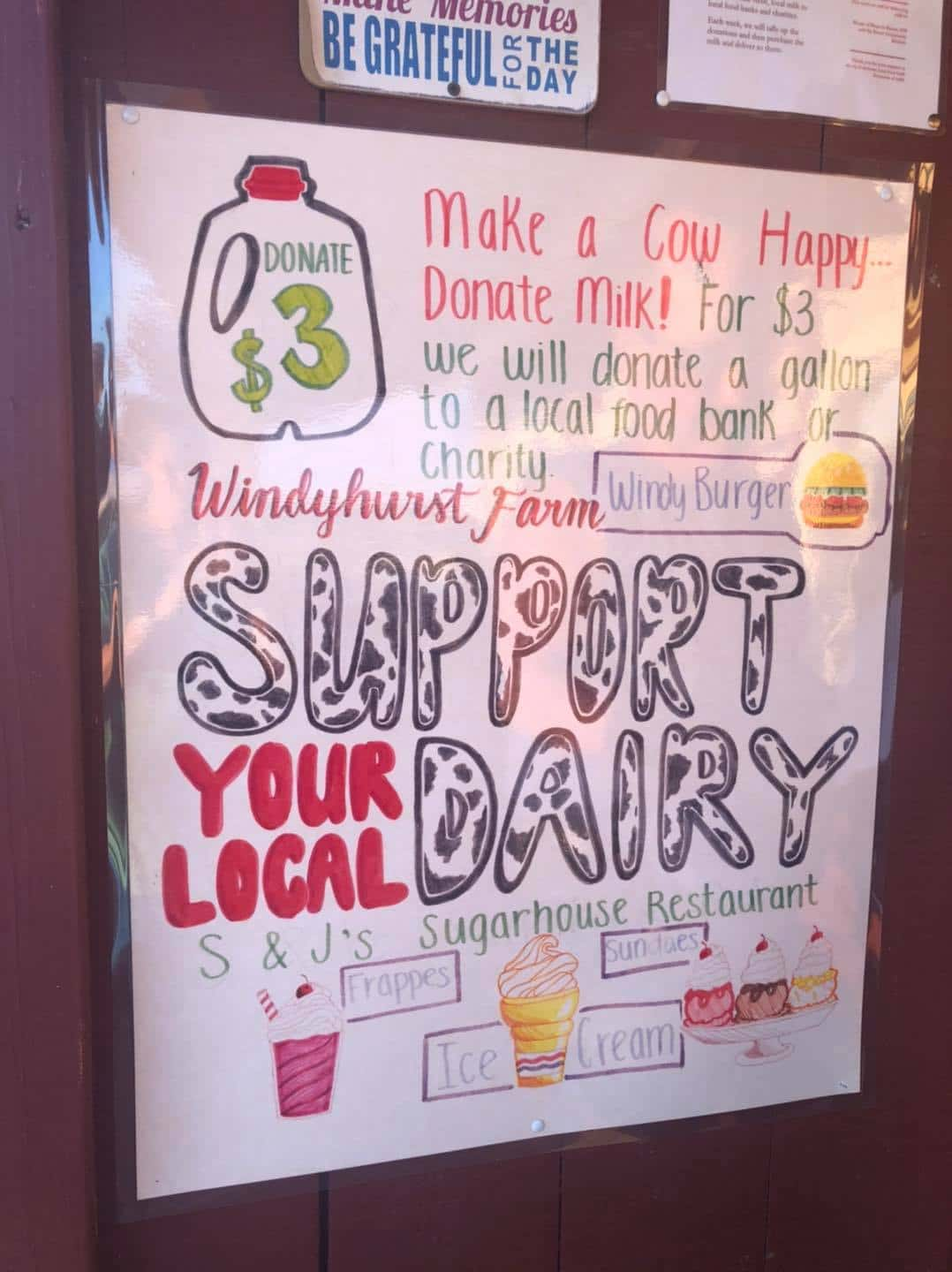 Their customers add $3 to cover a gallon of milk to their food and ice cream orders. Each week they tally it up and then distribute fluid milk to the charities. Since they can't bottle on our own farm, they do the next best thing—they purchase milk from
Market Basket
in Swanzey that comes straight from the
Hood
plant in Concord where their milk is bottled; so indirectly, it's their farm's milk. 🙂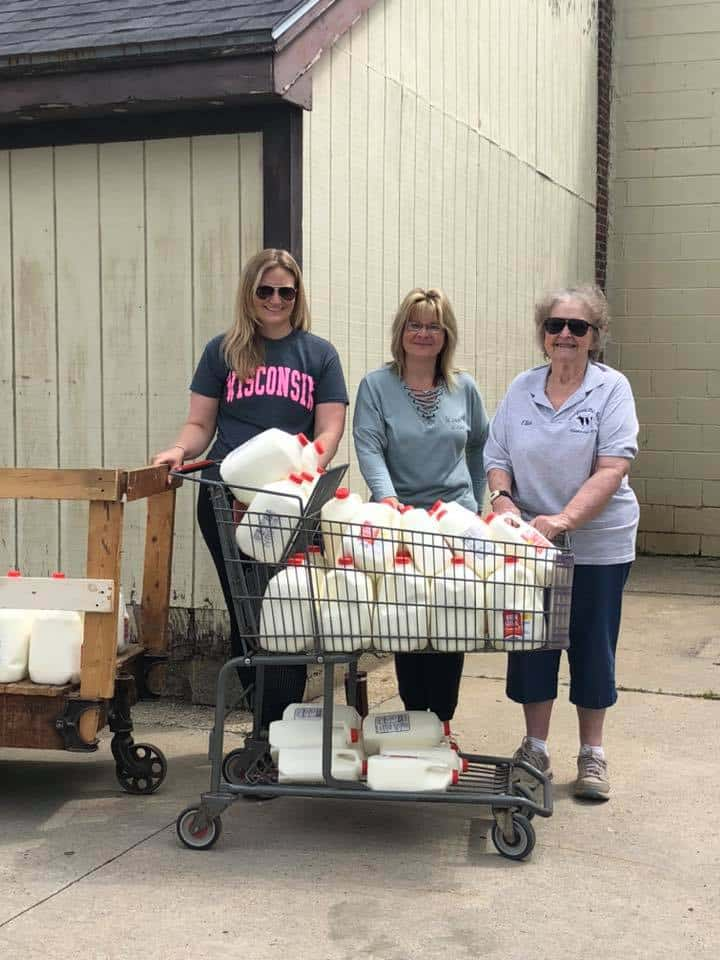 So far in 8 weeks, they have been able to facilitate the donations of over 525 gallons of milk. They do break out some of the donations to get half gallon and pint sizes sometimes to accommodate the needs of the community kitchen and feeding tiny tummies. Oftentimes half gallons let them spread the milk further between more families, and work better for smaller families or elderly folks. The pint size has come in handy for the community kitchen for the take out meals they had to do during COVID.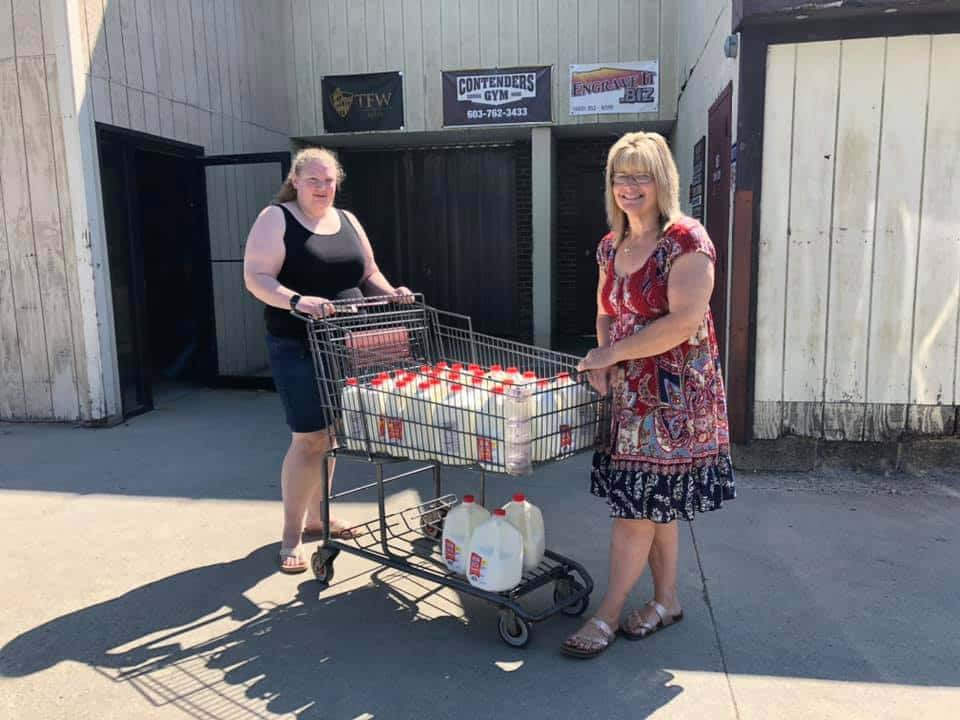 Thanks for supporting Stuart and John's and Windyhurst Farm as they work to support our community!
WEEK OF 6/22/2020
This week, we focus on the company MAMASEZZ, a local company that delivers fresh (never frozen) delicious, hearty, whole food plant-based ready to eat meals to your door… when the pandemic hit, they not only set up an in-house food store for everyone who works for them along with providing MamaSezz meals to their employees, but they are also continuing to donate hundreds of meals per week to food shelves and community pantries in the two towns where they have a base of operations, Brattleboro and Keene. MAMASEZZ is also working with a group of Brattleboro folks to provide restaurant food for people in town in a four-week pilot project that they hope to continue here and around Vermont. They are planning to offer logistics and their van to help move food safely to the distribution locations.


WEEK OF 6/15/2020
This week we highlight The Local Crowd Monadnock and their 4Ward Initiative — through a variety of crowd-funding campaigns, you're empowered to support the local business you wouldn't want to live without! The dollars raised helps these locally owned businesses weather the COVID-19 crisis, meet changes in community needs, and seize new opportunities to move towards a more local, green and fair economy in the Monadnock Region. Consider donating today to help one of the several businesses through TLC Monadnock's 4Ward Campaign like: The Monadnock Food Coop, Orchard Hill, Archway Farm and Prime Roast.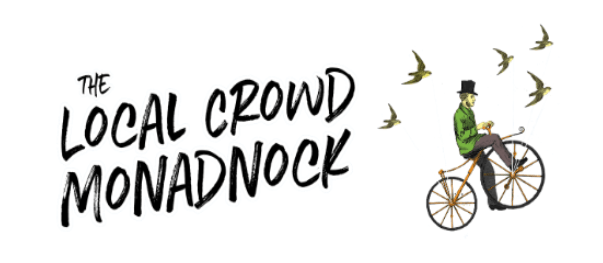 WEEK OF 6/8/2020
This week we spotlight the Rotary Club of Keene – the organization is hosting their annual Lobster Feast Raffle Fundraiser with money raised being put back into the community through Jane's Kids, which outfits local children in-need. Raffle tickets are only $5.00 each and there are 3 prizes (complete dinners for 10 delivered to the location of your choice within in the Monadnock Region *delivered uncooked due to constraints around COVID*). Contact your favorite Rotarian to purchase – or email info@keenerotary.org.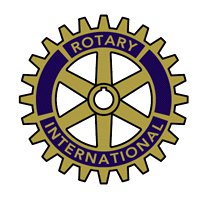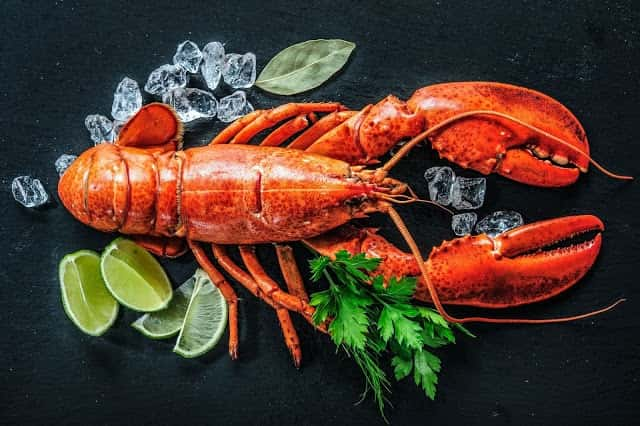 WEEK OF 6/1/2020
This week, we spotlight Nicole Reisman of Brattleboro – Operator of Nicole's Community Kitchen, and known as "The People's Chef". When we all began social distancing at the start of the COVID-19 pandemic, many individuals became housebound. Nicole selflessly stepped up and began using her culinary skills to provide hot home-cooked meals for her fellow Southern Vermonters during this time of need. Through her Facebook group page "Nicole's Community Kitchen", she makes meal announcements and takes orders, and with the help of volunteers, delivers these meals to people in Brattleboro and the surrounding area.
WEEK OF 5/25/2020
This week, we're focusing on Becky Arbella of Shires Housing, who helped create a temporary food shelf in Dover, Vermont in the Sundance Base Lodge of Mount Snow. Through different funding, including a GoFundMe account that surpassed her original request of $2500, an emergency grant, and food/beverage donations from the Vermont Foodbank, River Bend Farm Market, Mount Snow, and other local givers, she started the COVID-19 Temporary Emergency Dover Food Shelf.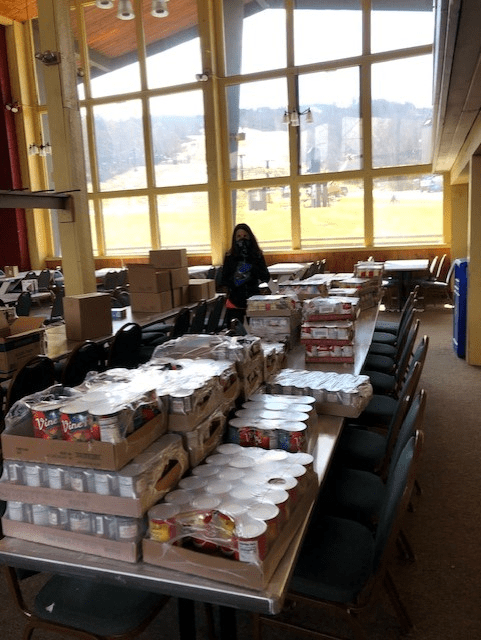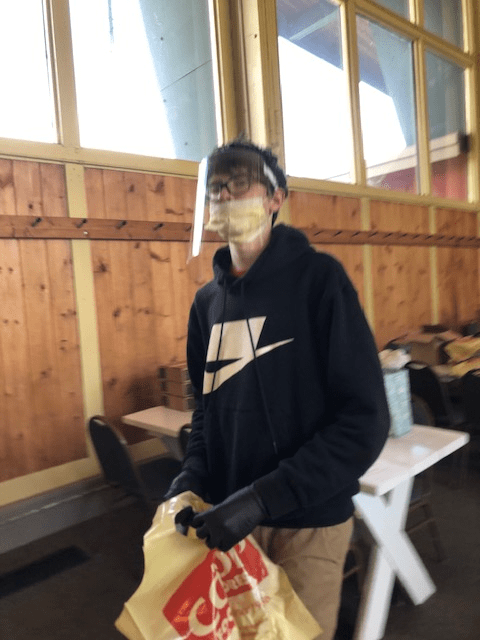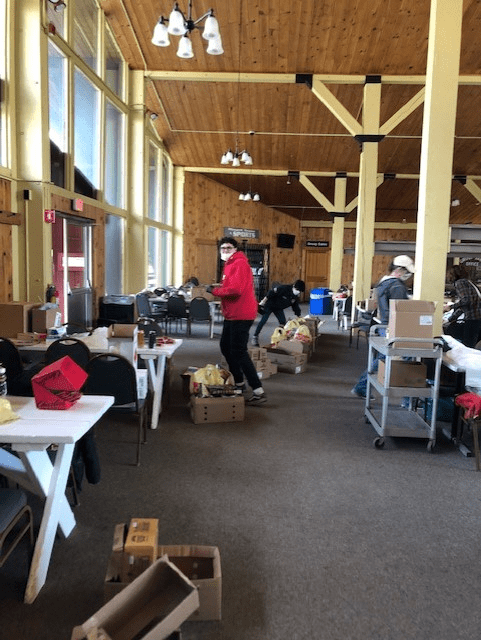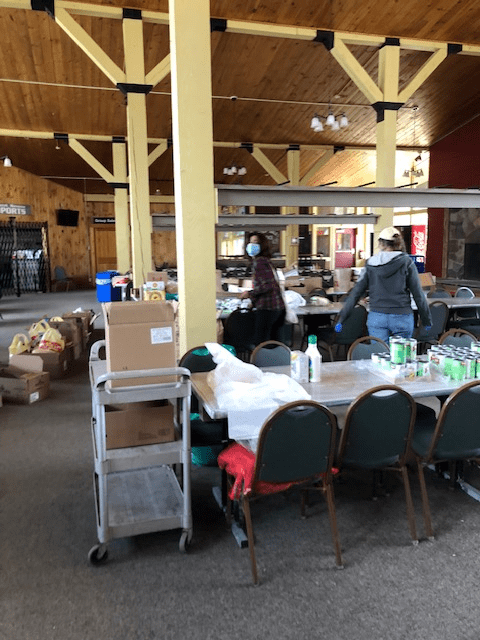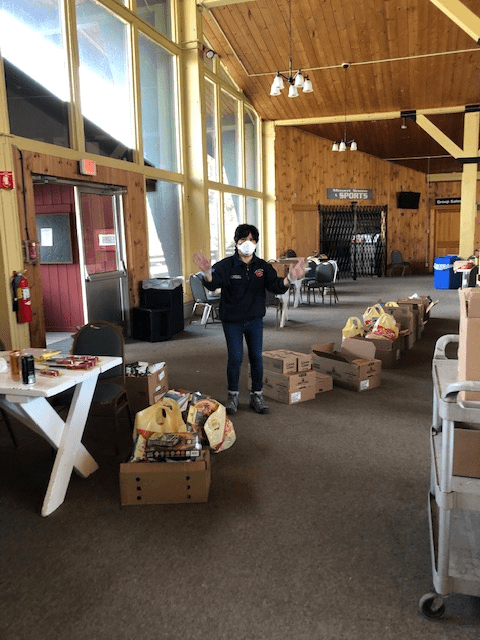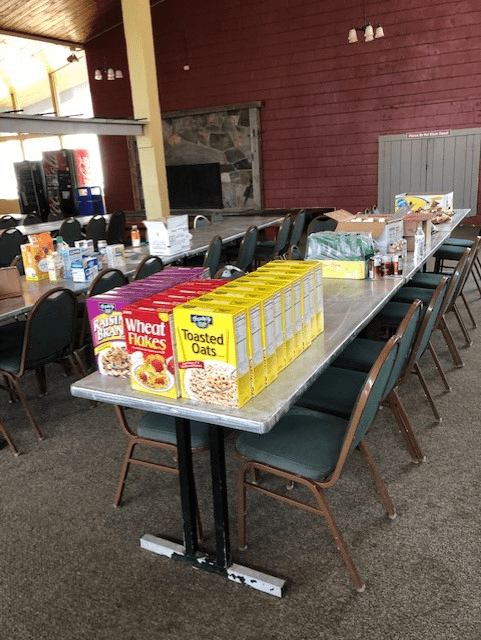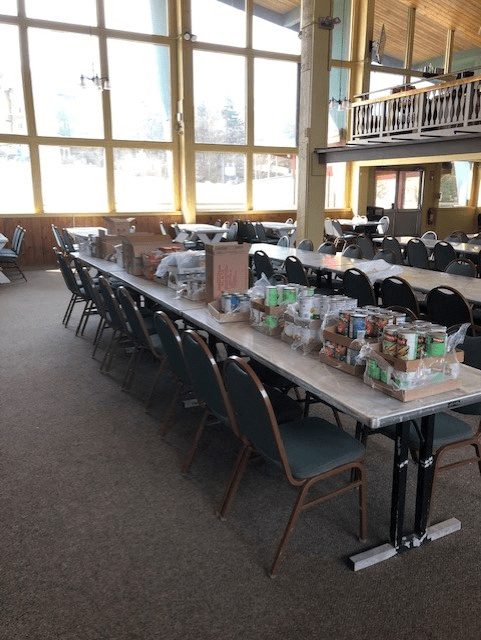 As the need from local families grew, Becky found it difficult to purchase items in bulk for the food shelf, so she decided to take the remaining funds and purchase several $25 gift cards to each of Dover and Wilmington's small grocery stores to give to families, so they could purchase their own items while keeping the money in the valley.
WEEK OF 5/18/2020
This week we focus on Brooke Kaplan of Vermont's own Darn Tough Socks. The company is selling the "Foodbank Farmer's Market" sock, with every penny from the sale going straight to the Vermont Foodbank. This lightweight lifestyle sock has a purpose beyond keeping you comfortable, it provides comfort to others… and so far, has donated over 170,000 meals to Vermonters in need.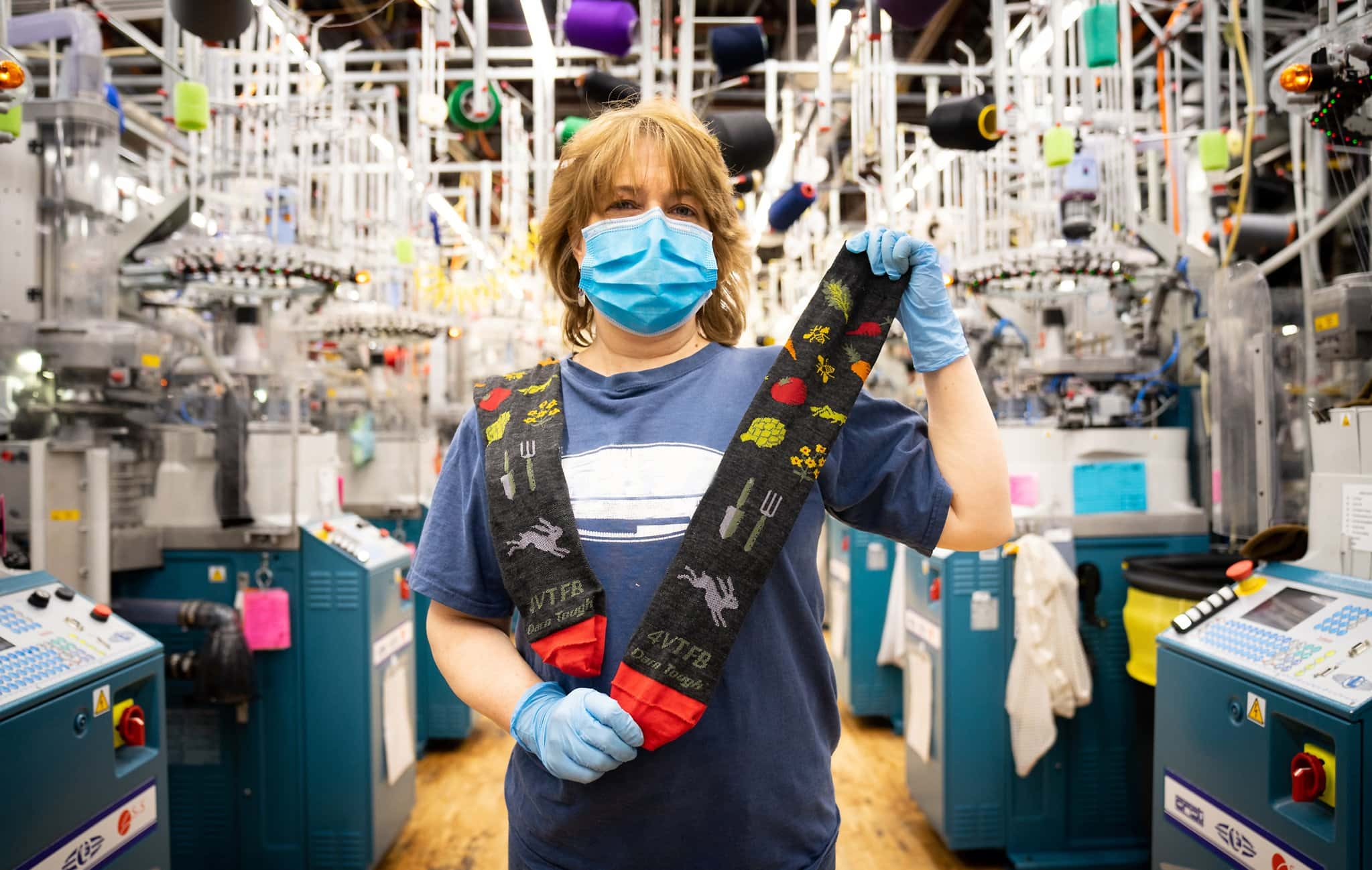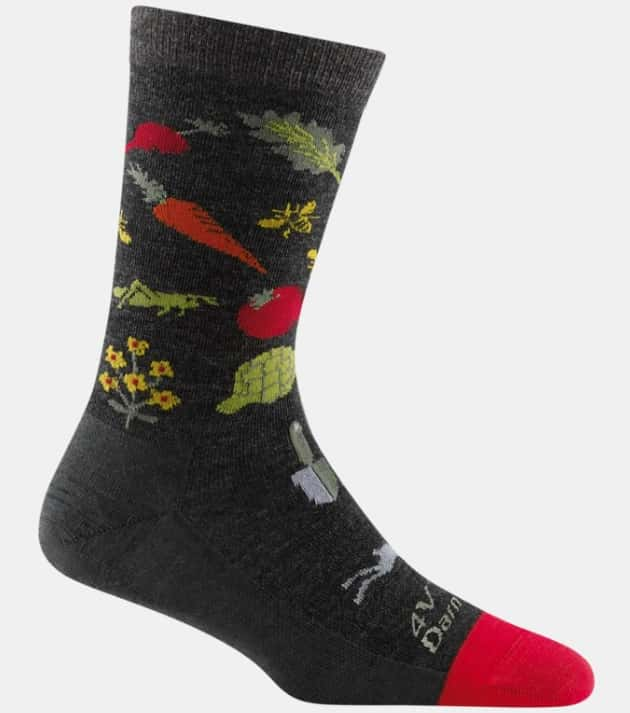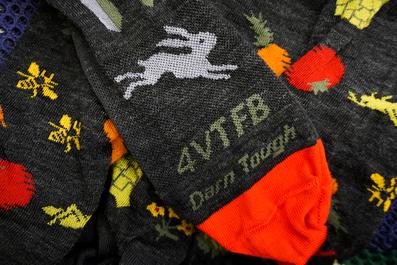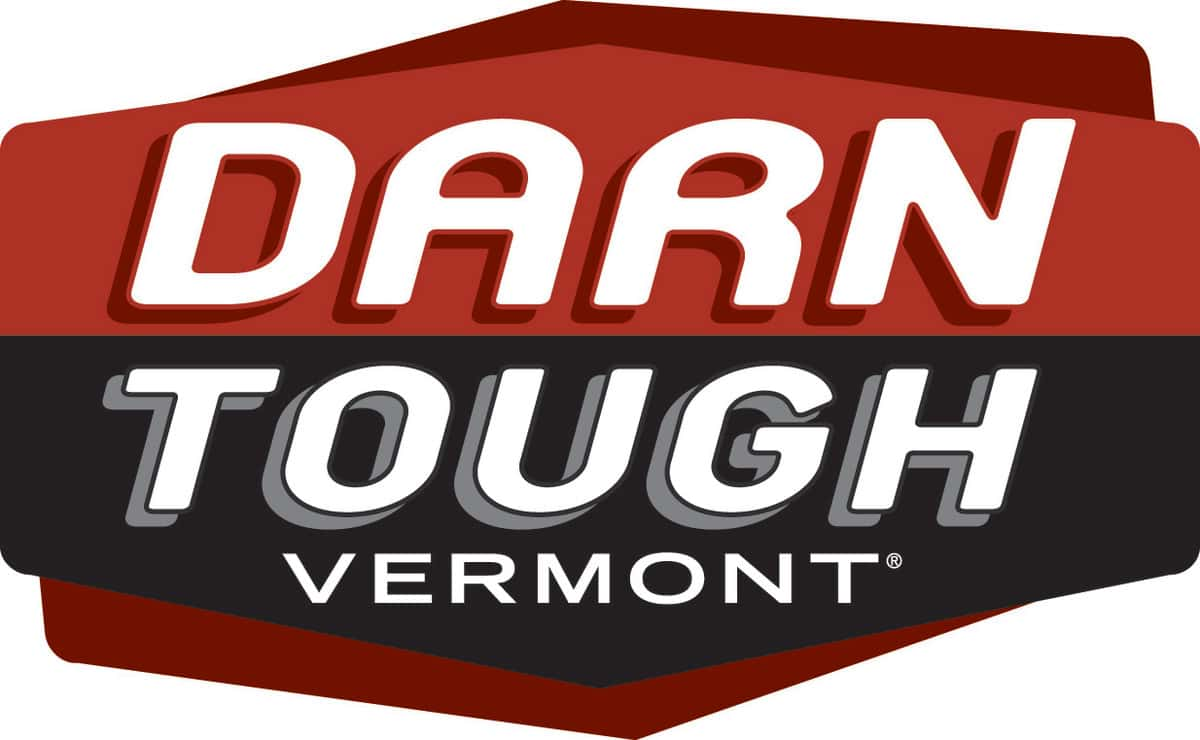 WEEK OF 5/11/2020
This week, we're featuring Joe Tolman, owner of Bulldog Design in Keene, who launched "the great grey tee project" in Keene and Brattleboro. Since early April, customers could order Oxford grey t-shirts with logos of local businesses and organizations in dark grey on the fronts, with "community support team, grey tee project member" printed in all caps on the left sleeve.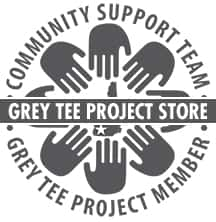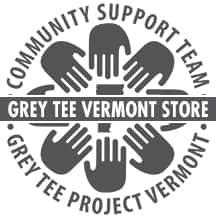 The shirts cost $19 each, and $10 from each sale went to the business that customers chose to support. Since many businesses were affected throughout the stay-at-home order, this was a way for Bulldog to help the community make it through COVID-19 related closures. In just over a month, nearly $100,000 was raised to assist local businesses!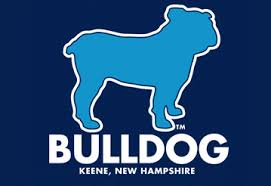 WEEK OF 5/4/2020
This week, we're featuring Jim Westbrook of CherryRail Farm who has put together a free food event on weekends in May and June for the public at The Retreat Farm in Brattleboro, VT.
Free breakfast sandwiches are available to the public on Saturdays and Sundays starting in May.  Just come down to the Retreat Farm in Brattleboro between 9 am – 12 pm for a sausage or cheese egg sandwich made fresh with local eggs and sausage.  To honor the social distancing details, you'll place your order at the drive-up order area and then drive up to the pick up station.  Socially distanced walk ups are welcome also.  Sausage donation and catering by CherryRail Farm with additional donations and support from Pete and Gerry's Eggs, Against the Grain, Brown and Roberts, Leader Home Center and Wendy's.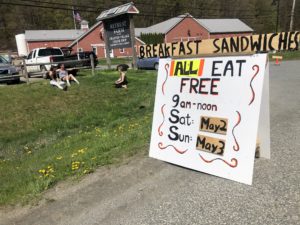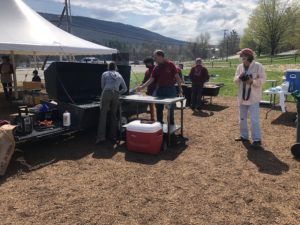 For more information email Jim at CherryRailFarm@gmail.com.