AT GREAT EASTERN RADIO WE REALIZE AND UNDERSTAND THE FEARS AND CONCERNS REGARDING COVID-19 ARE REAL. WE WILL CONTINUE TO MONITOR THE SITUATION, BOTH GLOBALLY AND LOCALLY, AND PROVIDE LISTENERS WITH ACCURATE AND CURRENT INFORMATION TO THE BEST OF OUR ABILITY. INTERNALLY WE ARE TAKING THE PROPER PRECAUTIONS AS OUTLINED BY THE CDC, ENSURING OUR BUILDINGS, STUDIOS, AND EQUIPMENT ARE CLEANED REGULARLY, ENCOURAGING STAFF TO WASH THEIR HANDS FREQUENTLY, AND TO STAY HOME IF FEELING SICK. THE HEALTH AND SAFETY OF OUR COMMUNITIES IS OF UTMOST IMPORTANCE, AND WE ASK THAT YOU JOIN US IN FOLLOWING THE CDC PROTOCOLS TO HELP LIMIT SPREAD AND EXPOSURE OF THIS DISEASE.
GET CURRENT STATISTICS AND PROTOCOLS ABOUT CORONAVIRUS (COVID-19)
BY CLICKING THE FOLLOWING LINKS:
STAY INFORMED WITH CURRENT INFORMATION ABOUT CORONAVIRUS (COVID-19)
BY CLICKING THE LINKS TO THESE LOCAL MEDIA NEWS OUTLETS:
**THE STATE OF VERMONT HAS ISSUED A STAY-AT-HOME ORDER…CLICK HERE TO READ FULL ORDER**
**THE STATE OF NEW HAMPSHIRE HAS ISSUED A STAY-AT-HOME ORDER THROUGH MAY 4TH**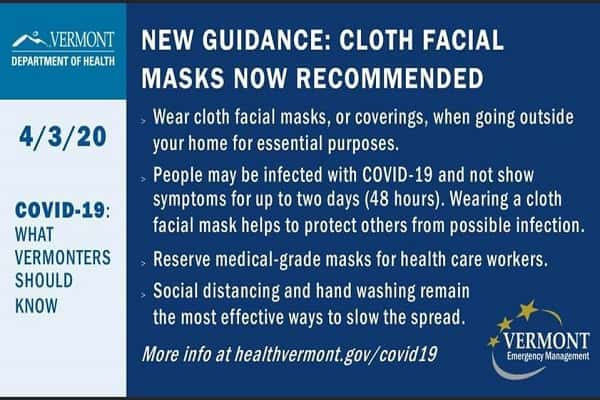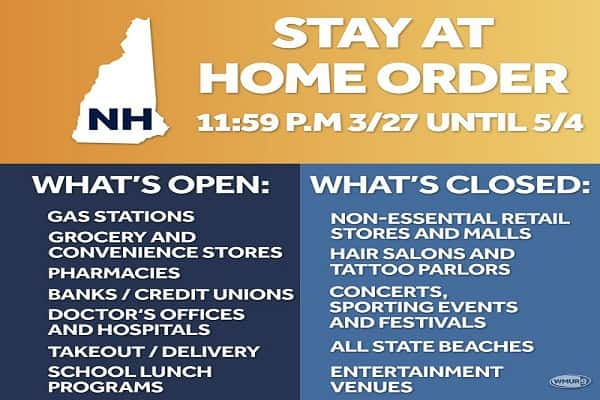 LOCAL BUSINESS UPDATE (As of 2PM on April 8th)
There's a lot going on in the world right now, but getting your tax refund is as important as ever. H&R Block is here to help you safely get your taxes done. Just drop off your documents at H&R Block and a tax pro will do the rest.   Your neighborhood H&R offices in West Lebanon, Lebanon, Claremont, Newport, Plymouth, Littleton, St Johnsbury, Bellows Falls, Springfield, Brattleboro and Bennington Vermont. 
There is great care giving info and procedures on AARP's website
Cape Air has suspended flights to New York, and is now offering 6 daily flights to Boston. As part of the federal Essential Air Service program, Cape Air will continue to offer this transportation lifeline to the Lebanon and Rutland communities, for essential needs. Get more info online at capeair.com
The Colonial Performing Arts Center in Keene is closed. Keep an eye to their website (www.thecolonial.org), Facebook page, and email updates. Please call the Box Office (603-352-2033) with any questions, but be prepared for some difficulty getting through due to the high volume of calls at this time. For the interim the Box Office hours will be Noon – 6PM daily.
Lab and Lager is closed.
Good Fortune Jewelry will remain closed, selective appointments via phone and email, and we schedule one customer at a time (trial phase)
Hannah Grimes Marketplace is closed.
Fireworks is open for Take out and delivery M-Th 4-8 F/S 4-9
Creative Encounters is closed. Happy to schedule customer appointments, pick-up only. 
Prime Roast Coffee Co. is closed. Free shipping on all coffee bean mail orders in the continental US through the website primeroastcoffee.com.
Momentum Clothing is closed.
Country Life is open normal hours with take out only for the lunch buffet.
The Stage Restaurant is closed.
Machina Kitchen & Art Bar is open for take out.
The League of New Hampshire Craftsman is closed for foreseeable future, Open by appointment. Contact Gallery Manager via email to schedule appointment.
Miranda's On Main is reaching out to their customers to let them know that we can make appointments, and they are also going to be on Instagram for shop from home M-S 11-5, maybe Sunday
Soul Emporium Keene is closed. Some services available, visit their Facebook page.
Ye Goodie Shoppe is currently open  for curbside pickup and direct shipping ONLY, Tueday through Friday and Saturday from 10am to 2pm. Visit yegoodieshoppe.com for some of your Easter favorites!
Ted's Shoe & Sport is offering free shipping, free delivery within 10 miles, and "careful curbside" with no human contact. 
Toadstool is open normal hours, curbside pickup for anyone who calls ahead and free delivery on internet.
Bar Harbor Bank & Trust is open for Drive Thru, and Lobby service by appointment only.
AB Gile Insurance is open. Their staff is working remotely via phone and email. Their website can assist for further info and appointments can be made for in person meetings. abgile.com
Aumand's Furniture in North Walpole, NH is open for business. They are taking extra care with daily cleaning to keep everyone safe. They are open Monday-Saturday 8:30-5p and Sundays Noon-4p, with deliveries available.
LaValley Building Supply – all locations open and offering curbside service and delivery
Newport Chevrolet Buick GMC – offering zero percent financing and deferred payments on many models
McGee Toyota and McGee Family Used Cars – browse inventory on line and complete the buying process easily
Shop from home at Halladay Flowers and Gifts by going to their website, halladays.com. Pick up handmade soaps,  and soothing lotions. Halladay's also has gift certificates available and they will mail them to you at no charge. For fun and practical gifts  make every day a little better with Halladay's. Shop today at halladays.com.
Toy City in Keene is open and stocked with puzzles, games and more to keep you busy and having fun at home.
Ramunto's is currently open for take-out and delivery.
City Tire on Main Street in Keene is open normal hours and ready to service your vehicle.
Thai Garden is open for take-out.
The Works on Main Street in Keene is open for take-out. Order ahead online so it's ready when you pick it up.
Kings Garden on Main Street is open normal hours for take-out and delivery.
Odelay is open for take-out and curbside pickup during normal hours and delivery between 4pm and 8pm. Order through the Chownow App for easy transactions.
Rymes Propane and Oil… call for service, no walk-ins please.
Monadnock Food Coop is open, however there is no hot bar, soup bar, or seating.
Luca's Café is open for take-out food, beer & wine.
Pho Keene Great is open for take-out Wednesday through Saturday 11am-9pm; Sunday 11am-8pm.
Brewtopia on Washington Street in Keene is open normal business hours.
Kristen's Bakery is open Sunday through Saturday 6am to 3pm for take-out and delivery. Possible Monday ready meals to take… check to see what they are.
Life is Sweet on the Square in Keene is open for delivery Tuesday through Saturday, 11:30am to 6pm.
China Wok on Court Street in Keene is open normal hours and delivery and take-out.
Yahso Jamaican Grille is open for take-out and delivery Tuesday through Sunday 11:30am to 8pm.
Athens Pizza is open for normal hours for take-out and delivery.
CC&D's is offering curbside pick-up Tuesday through Thursday 11am to 6pm. Phone call orders for now… working on an online ordering system. Toni's Taxi for delivery.
Royal Spice is open for take-out and delivery.
Elm City Brewery is open for take-out for food and beer.
Hamshaw Lumber is open normal hours. They have wood pellets, propane, paper goods, cleaning products in stock. Hamshawlumber.com.
Syd's Carpet & Snooze Room's showroom is closed; Order online. Free delivery during this time of social distancing. They can bring it in or leave it curbside. Sydsofkeene.com.
Modestman Brewing is closed, but products are available for pickup and delivery from Taco Odelay; Growlers can be purchased but cannot be refilled.
Pizza Pie in Keene is open for carry-out and delivery only.
Green Light Auto Center in Swanzey is OPEN for full service, inspections and sales. Waiting room closed, open for pickup and drop off only (no waiting). Visit them online at greenlightautonh.com.
McNeil's Brewery in Brattleboro is filling growlers by appointment in the afternoons. Reach them on Facebook.
Brattleboro Hearing Center's Brattleboro & Swanzey locations are open regular business hours; check website for updates at brattleborohearing.com.
Joy Wah Restaurant in Bellows Falls is open for open for carry-out and curbside pickup. Call for hours.
Bacon Me Crazy in Hinsdale is open for take-out only.
Scott's Clean Sweep in West Dover, VT is open normal business hours. They're booking out as far out as September/October, so customers should contact them now to be "on the books" for a later date.
Vermont Distillers in Marlboro, VT is not offering food or full pour drinks currently. Tastings and sales only. Vermontdistillers.com for more information!
The Windham County Humane Society is open by appointment only Wednesday-Sunday 12-5. They are committed to trying to stay open to help provide assistance for pets in our communities. Email info@windhamcountyhumane.org for more information or visit their website at windhamcountyhumane.org.
The Wilmington House of Pizza is open for takeout. Call ahead.
Tony's Pizza and Deli in West Dover, VT is open regular hours with their full menu and deli available for take-out.
IF YOU'D LIKE TO REPORT A BUSINESS OR EVENT CLOSING
PERTAINING TO THE CORONAVIRUS PLEASE CLICK HERE
AUDIO:
There has been a massive run on grocery and retail stores since the beginning of the coronavirus pandemic. Click HERE to listen a very informative interview with Erin Sigrist, President of Vermont Retail & Grocers
Great Eastern Radio's Peter "Fish" Case chats with Emilie Katherine Kornheiser, Brattleboro District 1 Vermont State Rep, to discuss what the state of VT is doing to assist with Youth Services during the COVID-19 pandemic. Click HERE to listen to the interview
We video chat with Vermont Congressman Peter Welch and discuss the Federal Government's COVID-19 Stimulus Package. Click HERE to watch interview
Alex Ginsberg | Partner at Pillsbury Law Talks about the CARES Act and SBA Loans, how to apply and what to expect…listen HERE
Sam Hooper | Owner of Vermont Glove Company, They've retooled and are making masks to try and help keep up with the threat of Corona Virus…listen HERE
Interview with Paula Fleming from the Better Business Bureau (about scams)…listen HERE
Interview with Adam Grinold of the Brattleboro Development Credit Corporation…listen HERE
Interview with Representative Laura Sibilia of Windham & Bennington County…listen HERE
IMPORTANT TELEPHONE NUMBERS:

If you are sick and have questions on how to proceed, call 211
Vt. Department of Health: 802-863-7240
NH Division of Public Health Services: 603-271-4496