AT GREAT EASTERN RADIO WE REALIZE AND UNDERSTAND THE FEARS AND CONCERNS REGARDING COVID-19 ARE REAL. WE WILL CONTINUE TO MONITOR THE SITUATION, BOTH GLOBALLY AND LOCALLY, AND PROVIDE LISTENERS WITH ACCURATE AND CURRENT INFORMATION TO THE BEST OF OUR ABILITY. INTERNALLY WE ARE TAKING THE PROPER PRECAUTIONS AS OUTLINED BY THE CDC, ENSURING OUR BUILDINGS, STUDIOS, AND EQUIPMENT ARE CLEANED REGULARLY, ENCOURAGING STAFF TO WASH THEIR HANDS FREQUENTLY, AND TO STAY HOME IF FEELING SICK. THE HEALTH AND SAFETY OF OUR COMMUNITIES IS OF UTMOST IMPORTANCE, AND WE ASK THAT YOU JOIN US IN FOLLOWING THE CDC PROTOCOLS TO HELP LIMIT SPREAD AND EXPOSURE OF THIS DISEASE.
GET CURRENT STATISTICS AND PROTOCOLS ABOUT CORONAVIRUS (COVID-19)
BY CLICKING THE FOLLOWING LINKS:
STAY INFORMED WITH CURRENT INFORMATION ABOUT CORONAVIRUS (COVID-19)
BY CLICKING THE LINKS TO THESE LOCAL MEDIA NEWS OUTLETS:
**THE STATE OF VERMONT HAS ISSUED A STAY-AT-HOME ORDER THROUGH MAY 15TH
READ ABOUT THE RE-OPENING PROCESS AND TIMELINE HERE**
**THE STATE OF NEW HAMPSHIRE HAS EXTENDED STAY-AT-HOME ORDER THROUGH MAY 31ST
READ ABOUT "STAY-AT-HOME 2.0" AND THE TIMELINE TO OPEN DIFFERENT SECTORS IN NH HERE**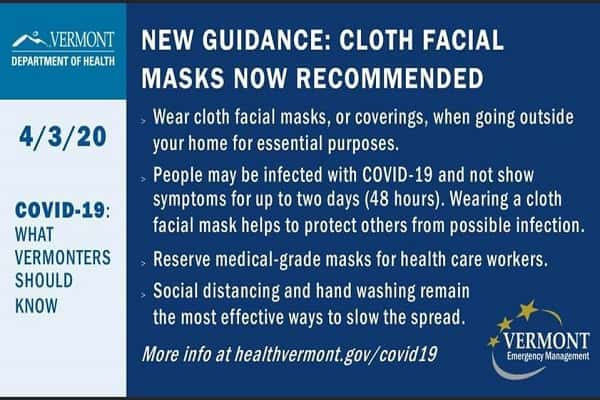 LOCAL BUSINESS UPDATES:
(As information is rapidly changing, it's encouraged to contact businesses directly with any questions regarding their current operations.)
Keene Sentinel's Business Closures and Hours
Brattleboro Reformer's What's Open
Brattleboro.com's Local Business Updates
DOING GOOD IN THE NEIGHBORHOOD:
Vermont Flannel is now selling "Vermont Flandanas"! The Vermont Flandana is a non medical, face and neck bandanna that keeps your face nice and cozy! Order a 4-pack HERE to keep your face covered when going out for essential tasks and the proceeds support the Vermont Foodbank.
Darn Tough Socks is selling "The Foodbank Farmer's Market sock", with 100% of the proceeds to benefit the Vermont Foodbank. Click HERE for more info!
The Greater Keene Rotaract Club is constantly finding ways to give back to our community while practicing social distancing. Follow along with them on Facebook and have a chance to win gift certificates to local business with their frequent #ShopLocal giveaways!
Fireworks Restaurant in Keene offers restaurant employees who have been laid off due to the Coronavirus pandemic 15% off their order on Thursdays with "Restaurant Refugee Day". Just let them know your name and your restaurant's name when you place your order!
Masks Benefiting Mutts is a fundraising effort offering fun and unique patterned masks with 100% of the proceeds benefiting the Monadnock Humane Society in Swanzey, NH. Click HERE for more info!
AUDIO:
There has been a massive run on grocery and retail stores since the beginning of the coronavirus pandemic. Click HERE to listen a very informative interview with Erin Sigrist, President of Vermont Retail & Grocers
Great Eastern Radio's Peter "Fish" Case chats with Emilie Katherine Kornheiser, Brattleboro District 1 Vermont State Rep, to discuss what the state of VT is doing to assist with Youth Services during the COVID-19 pandemic. Click HERE to listen to the interview
We video chat with Vermont Congressman Peter Welch and discuss the Federal Government's COVID-19 Stimulus Package. Click HERE to watch interview
Alex Ginsberg | Partner at Pillsbury Law Talks about the CARES Act and SBA Loans, how to apply and what to expect…listen HERE
Sam Hooper | Owner of Vermont Glove Company, They've retooled and are making masks to try and help keep up with the threat of Corona Virus…listen HERE
Interview with Paula Fleming from the Better Business Bureau (about scams)…listen HERE
Interview with Adam Grinold of the Brattleboro Development Credit Corporation…listen HERE
Interview with Representative Laura Sibilia of Windham & Bennington County…listen HERE
Interview with Elliott Greenblott, Vermont Coordinator, AARP Fraud Watch Network. Stay away from the Ether and if it seems to good be true…. It is…listen HERE
Interview with Shari, Community Outreach Advocate, Women's Freedom Center…listen HERE
Interview with Joshua Cohen of Cohen Consumer Law. What things should we be worried about during a pandemic…listen HERE
Interview with Casey Cota from Cota Oil…listen HERE
Interview with Jilisa Snyder Ph.D. and Laura Kelloway LICSW of the Brattleboro Retreat…listen HERE
Interview with Anne Galloway of VT Digger…listen HERE
Interview with Mike Pieciak, Commissioner of the Vermont Department of Financial Regulation…listen HERE
Interview with Anore Horton, Executive Director, Hunger Free Vermont…listen HERE
Interview with Brooke Kaplan, Director of Marketing of Darn Tough Socks…listen HERE
IMPORTANT TELEPHONE NUMBERS:

If you are sick and have questions on how to proceed, call 211
Vt. Department of Health: 802-863-7240
NH Division of Public Health Services: 603-271-4496